Gordon Thomson Finds His Spark in the Darkness of "Bloodbound"
Mike Bash and Gordon Thomson in "Bloodbound"
Gordon Thomson knew it was time for a change. The once-prolific Canadian actor of screen and stage, who thrilled television audiences worldwide with his turn as the roguish Adam Carrington on the smash '80s drama "Dynasty," now found himself at the wrong end of a self-imposed exile, having become, in his own words, "something of a recluse … a hermit." That, of course, was before Michael Kearns came calling.
Kearns, the lauded performer and playwright who blazed trails as the first gay, openly HIV-positive actor in Hollywood, had written a bold, new play, and now he was considering his old acquaintance Gordon for a particularly juicy role. The play became "Bloodbound," a searing, semi-autobiographical work chronicling the gnarled lives of two brothers as they struggle over the years against the tides of family strife, repressed sexual memories and, ultimately, prolonged incarceration. The meaty role – that of Anthony Shaw, imprisoned older brother to Kearns' stand-in, Vincent – became Gordon Thomson's.
"I remember driving back from my first meeting with Michael [Kearns] on the dreaded 101 freeway, and I thought to myself, 'Gordon, do you want to rejoin the human race or not,'" recalls Thomson. "I had been loafing along doing bits of remarkably unchallenging work, and this was like asking myself to return to my prime when I was doing 35 pages a day, every week of the year. But I still said yes, and I'm truly grateful that I did."
Yet, that's not to say the process has been an afternoon stroll in the park. In this writer's lengthy and rollicking discussion with Thomson, the experienced thespian makes no bones about "Bloodbound"'s complexity and the struggle of inhabiting the fraught livewire that is Anthony Shaw.
"This is without question the most challenging role I've ever dealt with. And Michael writes very poetically and passionately. This is him at his most volatile," explains Thomson.
Further complicating matters is the play's multilayered timeline, which sees younger versions of Anthony and Vincent (played by Make Bash and Hunter Lee Hughes, respectively) intersect with their aged counterparts.
"It's all bright and dense, which makes it very hard to learn. Shakespeare is easier to do than this. Hamlet has his problems, but Jesus Christ, this play is tougher."
The difficulty level was ratcheted up, in part, due to the fact that the relationship between Anthony and Vincent directly mirrors that of Kearns and his own brother, who has actually spent the last 16 years in a St. Louis federal prison.
"[Anthony] exists. He's a passionate, violent man who murdered his best friend with a baseball bat," remarks Thomson gravely. "I've never heard of a more gothically screwed up family in my life, and here, Michael is putting it on stage. I have to tell and relive the act of bludgeoning [Anthony's friend] to death … to submerse myself in the feelings, what the blood must have smelled like. It's a very demanding responsibility."
Needless to say, it took some measure of time for Thomson to settle into the character, a process he claims was helped along by his closest collaborators, including acclaimed director Mark Bringelson and co-star Greg Ainsworth.
"In Mark, we have a brilliant director. Greg narrates the play and plays [Vincent Shaw] essentially Michael, and he's so, so good," waxes Thomson, batting back the idea that the two veteran performers would ever let their characters' relationship onstage spill into reality. "Because the piece is not conversational, it doesn't lend itself to that kind of confusion. My character gets enraged [at Vincent], but knowing what I know about him allows me to let go of it."
Nevertheless, Thomson allows that he wasn't always so cued-in on Anthony's motivations.
"After the first two days of rehearsal, I was so frightened of not having any person latch onto. I e-mailed Michael with my concerns," states Thomson. "And with immense tact, he told me a few details about his brother that could inform me. Michael visits [his brother] twice a year in prison, but he still has never told Michael why this murder happened. I realized, though, that this man is ultimately three dimensional. An alpha with a poetic streak."
Though deftly able to to enter his character's headspace, Thomson largely downplays the idea that his own personal life might seep into the work – save for the significant part that his own siblings played in his emotional recall.
"I have an older brother and a younger sister who live in Canada, 3,000 miles away," says Thomson with an air of wistfulness. "We don't see each other or talk much, but we have enormous love and respect for one another. I didn't have a happy childhood, which I think is rare in general, but the more I work on this sucker, the luckier I feel!"
Indeed, with material as weighty and resonant as "Bloodbound," it's not hard to see why.
"It's something that will give you very potent reactions," opines Thomson of the play. "It will make you laugh. It may make you cry. It will be an extreme experience, and, I think, if we're doing our job, you will feel in an extreme way."
And feel Thomson does. He is, by any metric, an actor's actor – one easily swept up in passion for his work. Perhaps all the more so in knowing the pain of losing that spark and the creative ecstasy of discovering it again.
"I'd been 'Mr. Pablum Tapioca' for too many years, and all of a sudden this [play] is electric curry, the biggest gumbo with every spice known to man," riffs Thomson. "I'm at the point now where I pretend this is the last performance I'm going to give every single time. That's a huge gift the theater gives an actor."
A gift that will now be passed on to eager theatergoers when "Bloodbound" premieres this evening at the Highways Performance Space in Santa Monica.
"Bloodbound" is performed Jan. 19, 20, 26 and 27 at 8:30 p.m., and Jan. 28, Feb. 4, 11, 18, 25 and March 4 at 3:30 p.m. The Highways Performance Space is located at 1651 18th St., Santa Monica 90404. For tickets and more information, visit highwaysperformance.org.
Video Slider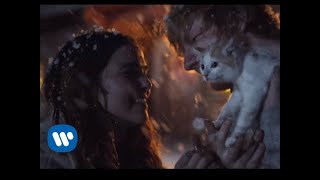 Win Tickets to See Ed Sheeran at the Rose Bowl
Ed Sheeran is back in Los Angeles, and your chance to see him perform is at the Rose Bowl in Pasadena on Saturday, Aug. 18. We are giving away complimentary tickets to the show. For a chance to enter to win, email us at info@lol-la.com with "Ed Sheeran" in the subject line and tell us why you would like to go.