Gore Verbinski Guides the Way for Dane DeHaan and Mia Goth in A Cure for Wellness
A Cure for Wellness stars Dane DeHaan.
This is Gore Verbinski's genre, and he knows it, and the psychological horror thriller film A Cure for Wellness (20th Century Fox) almost seems like it is his pet project.
"I do think it is a contemporary, Gothic, fairy tale in many ways," admits Verbinski. "It's almost kind of like dream logic; it's not a strictly logical world."
A Cure for Wellness stars Dane DeHaan as the young, witty up-and-coming New York stock broker named Lockhart, Jason Isaacs as Dr. Heinreich Volmer – who heads a so-called curing center in the Swiss Alps, and 23-year-old Mia Goth as Hannah, one of the many patients at the facility.
"We were writing Dane's character as so he was an asshole," says Verbinski. "He has to be vulnerable to the diagnosis of this place. I think that this diagnosis is a form of absolution."
"It was great working with Gore," says DeHaan. "He is a very visual director, but he is also very collaborative, slow and methodical."
Verbinski says he had a vision for Mia's role."We wanted her to be kind of like Shelley Duvall in
"We wanted her to be kind of like Shelley Duvall in The Shining," he admits.
"Mia is great and super talented. She was perfectly cast for this movie," says DeHaan, 31. "She created such a great character. Hannah has to be this really strange bird, and I think she captured that."
"One of the things that struck me is that Hannah is much younger than everyone else at the sanitarium, so she doesn't quite fit into this puzzle," says Goth. "So one of the things I did was to volunteer to be around elderly people, see how that was and kind of just get accustomed to that. I took a lot from that when I went to shoot."
Goth also says that it "was great" working with DeHaan, and she's always been a fan of his previous work.
Pitching films to studios can be difficult the majority of the time, and it could have been the case for A Cure for Wellness since it carries several themes. Nevertheless, Verbinski – who provides direction, production and the script (co-written with Justin Haythe) – says "they" backed it up.
"Regency Enterprises financed it 100 percent," says Verbinski. "So it worked out."
Another thing that worked out quite well is DeHaan's character of Lockhart.
"It put me through a lot for sure," says DeHann. "It was physically and psychologically demanding. It was a five-month shoot. It was tough, but I like things to be tough. There were torturous days as there should have been given the nature of what happens in the movie, but ultimately, you know, it was really rewarding."
DeHaan also admits that Gore and the script are special. After all, he is the only director he would have worked with for this type of movie.
"He is so visual, and in the end, it came to bringing his vision to life," DeHaan says. "He pulled it off."
"Gore really knows what he wants," says Goth.
A Cure for Wellness is now playing in theaters.
Video Slider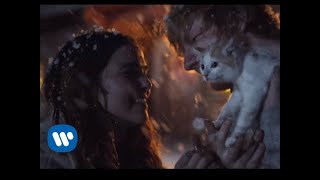 Win Tickets to See Ed Sheeran at the Rose Bowl
Ed Sheeran is back in Los Angeles, and your chance to see him perform is at the Rose Bowl in Pasadena on Saturday, Aug. 18. We are giving away complimentary tickets to the show. For a chance to enter to win, email us at info@lol-la.com with "Ed Sheeran" in the subject line and tell us why you would like to go.