GRACIAS MAESTROS 2.0 Initiative Highlights Michael Padilla
San Jose high schooler Michael Padilla aspires to work in the film industry. (Courtesy of IM Studio)
It is not that often that one's high school English teacher cultivates one's curiosity for the film industry.
But such is the case with San Jose-based Evergreen Valley High School student Michael Padilla. His English teacher, Ms. Dixon, plowed his interest in filmmaking and screenwriting by introducing him to literature and awakening his knack for vivid storytelling of real-life events.
The California Lottery has created a campaign to inform people that California public school teachers are doing great things for their students and communities. Dubbed GRACIAS MAESTROS (Thank You Teachers), the California Lottery's mission as message campaign consists of a video and editorial series in Spanish that spotlights outstanding teachers throughout the year and the students they've inspired along the way. This is similar to the California Lottery's "Thank a Teacher" campaign.
The lottery's mission is to provide supplemental funds for public education in CA and that while it's modest, the more than one billion a year (and nearly $39 billion since its founding), helps fund things that fall through the cracks when there are budget shortfalls.
Furthermore, the series lives on the GRACIAS MAESTROS website (www.graciasmaestros.com), which also provides an interactive space where teachers and students can connect, share their experiences and ideas for succeeding in a world of possibilities.
In an exclusive Q&A with Padilla, the teen phenom discusses his passion for cinema, whom he admires, the first script he wrote and many other things.
Living Out Loud LA: Tell us about your passion for cinema in general. How did that come about for you?
Michael Padilla: I actually started acting before I was interested in cinema and film. I actually auditioned for Hairspray, and from there, I got interested in film and cinema. I started taking some classes to learn about what is done on the other side of the camera. This is mostly screenwriting and filmmaking and directing and all of that industry that is so broad, and everything just kind of ties together.
LOL-LA: In your earlier days, whom did you admire, any actors or directors in particular?
MP: The funny thing is that when you are younger, the face of a show or film you mostly see is the actor's, and for a kid, it's all about simplicity. So the actor is the main image that a child sees when watching television. Or in a play, the main character is always the actor. So I think that my main influence from the acting side has been Selena Gomez. She was the one I really loved. She is more of an influential person to me.
LOL-LA: In terms of school, you love English, history and choir, as well. But if you had to choose one, which one would it be and why?
MP: I really love choir. I think the heart of performing has to involve singing. My choir director is always saying that you can teach anyone to act, but singing has to really be developed. If you know how to sing, it's easier to learn how to act.
LOL-LA: Talk to us about Ms. Dixon. How influential has she been for you and with you?
MP: Thanks to GRACIAS MAESTROS, they gave me a chance to talk about someone who really has inspired me, and if it weren't for them, I wouldn't come up to Ms. Dixon and say 'Really, thank you for what you do.' She means so much to me that I can't really put it in words, and GRACIAS MAESTROS gave me a chance to show her how much I appreciate her.
LOL-LA: In the beginning, did you face any challenges in writing 'El Regalo de Dios' and, overall, what inspired it?
MP: A lot of people have that writer's block, but for me, this was my first attempt at writing something. I had written little ideas here and there, but this specific project came from the screenwriting class that I took so the professor helped me develop something from nothing. With 'El Regalo de Dios', the challenge that I faced was to not make a story that is so generic, and I wanted to make something that is different.
LOL-LA: Where do you see yourself in the next four or five years, and where do you see yourself in 10 years?
MP: In 10 years I see myself opening my own production company and really focusing on diversity and on anything that has to do with the minority groups, women's rights and the LGBT. I think that those are the up-and-coming markets. In five years, I believe that I would be acting and performing and hopefully move to Los Angeles and make the connections.
LOL-LA: Where can we find you on social media?
MP: You can find me on my website MichaelPadillaC.com and that's actually the same username for my Instagram, Twitter and Facebook.
LOL-LA: What do you like to do in your free time?
MP: I really like to do the most with my time. I can't sit on the couch for more than five minutes. I feel like I could be doing something else with that time. Every night I practice my guitar and piano. I'm reading books on Maya Angelou and her empowering messages.
Video Slider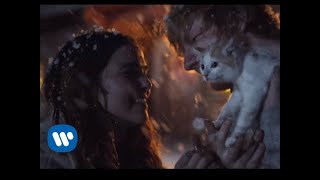 Win Tickets to See Ed Sheeran at the Rose Bowl
Ed Sheeran is back in Los Angeles, and your chance to see him perform is at the Rose Bowl in Pasadena on Saturday, Aug. 18. We are giving away complimentary tickets to the show. For a chance to enter to win, email us at info@lol-la.com with "Ed Sheeran" in the subject line and tell us why you would like to go.