Greatest Hits Features Chris Cuffaro Photos of Nirvana, George Michael, Morrissey and More
See over 60 different photographs from Chris Cuffaro at Greatest Hits.
It's always nice to embrace the things that make Los Angeles great – the weather, the food and, most importantly, the music. I would be hard pressed to find a city that has more diversity, quality and abundance of music than Los Angeles.
It's in the bars, the giant clubs and always flashing right before your eyes. That's why there needs to be expert photographers out there to freeze time and bring you into the moment, even if it has long passed.
Chris Cuffaro has been using his camera to tell stories for decades, and tonight, a collection of his work will be on display in the most appropriate place in town. The Old Tower Records space that is now home to Gibson Brands is hosting the event, and it's for one night only.
Tonight, Feb. 2, at 8:30 p.m., the doors open for the public to enjoy the Greatest Hits art retrospective with images of musicians from Nirvana, George Michael, Morrissey, Fiona Apple, Ice Cube and a ton more. The night also features performances from L.A. artists like Givers & Takers, Josh Todd, Particle Kid, the Palms and Lauren Ruth Ward.
All of the proceeds from artwork sales at the event benefit the Sweet Relief Musicians Fund, www.SweetReglief.org a charity providing financial assistance to all types of career musicians who are struggling to make ends meet while facing illness, disability or age-related problems.
Gibson Brands is located at 8801 Sunset Blvd., West Hollywood 90069. For more information, visit cuffarohits.com.
Video Slider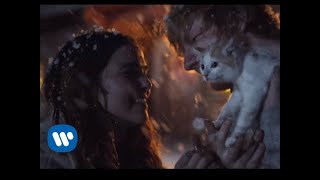 Win Tickets to See Ed Sheeran at the Rose Bowl
Ed Sheeran is back in Los Angeles, and your chance to see him perform is at the Rose Bowl in Pasadena on Saturday, Aug. 18. We are giving away complimentary tickets to the show. For a chance to enter to win, email us at info@lol-la.com with "Ed Sheeran" in the subject line and tell us why you would like to go.