Guillermo del Toro Discusses The Shape of Water
Guillermo del Toro, Octavia Spencer and Sally Hawkins on the set of The Shape of Water (Sophie Giraud)
Some great directors make movies that drip with cynicism, but despite specializing in monster movies intent on bringing chills to audiences, Guillermo del Toro is the eternal optimist.
"If you're a cynic and say that you're 53 years old and do not believe in love, people will think you're very sophisticated," the director explains. "But if you say that you're 53 and you believe in love, people will think you're naïve. I think that's a shame, because the two forces that shape human behavior are fear and love, and fear begets hatred. You can only hate what you don't understand."
His latest film, The Shape of Water, which received rapturous reviews during its film festival run earlier this fall, may feature a scaly water creature, but it is at its heart a love story between the aquatic creature and Elisa (Sally Hawkins), a mute cleaning lady at a NASA facility during the early 1960s at the height of the Cold War. It is an unlikely story, as del Toro jokes about the relationship between the two characters.
"Sashimi has a whole new meaning now. There really are plenty of fish in the sea!"
Despite del Toro's optimistic nature, he does not see the world through an idealism that blinds him to the world's problems, and even though the film is set over a half century ago, he wrote it with an eye to contemporary social issues.
"As an immigrant, over the last decade or so you feel the tension in the air. Right now it's very manifest, but it has been brewing for decades, and now we're in a place where hatred and fear are a main part of the discourse. We wake up to the worst news about the worst possible things in the world, and we are at the point where we can make anyone believe anything about anyone. We reduce people to a single word, whether it's about immigration or race or religion, and make them silent. It is only ideology that allows human beings to hate one another."  
The creature in The Shape of Water may be surprisingly beautiful – del Toro claims he wanted audiences to exclaim, "Hubba, hubba" upon seeing it – but what draws the Pan's Labyrinth director to monsters is their essentially flawed nature.
"Monsters are the embodiment of imperfection. They cannot pretend to be perfect, and thus are apologetic about their imperfection. The essence of love is to know and embrace imperfection, and the essence of fear is to seek control of it. The bad guy in this movie seeks complete control of his wife, of the women who work for him, his environment and his own persona, and it is impossible."  
The Shape of Water may be an allegorical fantasy, but del Toro endeavored to make it as realistic as possible, particularly with regard to its depiction of female desire.
"Female sexuality scares men," he opines, "because the worst thing you can do to a gender is put it on a pedestal. That's not human. Who the fuck can survive on a pedestal? The only sexual act in the movie that's creepy is the one between Barbie and Ken when he tries to keep her quiet. The rest are seen with complete naturality, and none of them are perverse. Elisa wakes up, she masturbates, shines her shoes and goes to work. That's a perfectly acceptable routine."
Elisa and her friend Giles (Richard Jenkins of The Visitor and "Six Feet Under") live atop an old movie theater, and del Toro incorporates that into the film, which functions both as a Beauty and the Beast-style monster romance and an ode to cinema, for which he has an obvious love.
"There are points where I've struggled with the world, and a movie comes on television, and I come out with tears streaming down my face, saying life is good. It doesn't just happen with great movies, but sometimes with Mexican melodramas, or musicals or sometimes Terry Gilliam's Brazil. It's not just great cinema, it's any cinema. That's why I didn't want the cinema in the film to show a masterpiece like Citizen Kane or Singin' in the Rain. Cinema saves your life no matter how humble it is."
The Shape of Water releases in select theaters Dec. 1 and additional cities Dec. 8.
Video Slider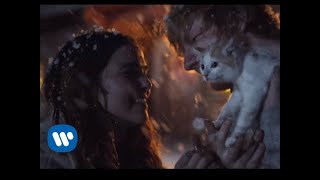 Win Tickets to See Ed Sheeran at the Rose Bowl
Ed Sheeran is back in Los Angeles, and your chance to see him perform is at the Rose Bowl in Pasadena on Saturday, Aug. 18. We are giving away complimentary tickets to the show. For a chance to enter to win, email us at info@lol-la.com with "Ed Sheeran" in the subject line and tell us why you would like to go.