Harrison Ford, Ryan Gosling and Director Denis Villeneuve on Blade Runner 2049
Denis Villeneuve, Ridley Scott, Harrison Ford and Ryan Gosling on the set of Blade Runner 2049 (Stephen Vaughan/Warner Brothers)
Returning to a classic film decades after it first premiered has its certain dangers, as Harrison Ford certainly knows. The actor returned to the role of Indiana Jones in 2008 with Indiana Jones and the Kingdom of the Crystal Skull" after nearly 20 years, and two years ago to Han Solo in Star Wars: Episode VII: The Force Awakens after more than 30. It has been 35 years since Ford has played his third iconic role from the 1980s, Rick Deckard from the 1982 Ridley Scott classic Blade Runner, so he wanted to ensure that the film could do justice to the original.
"The whole had to be something I really wanted to be involved in, not just my own part. I saw that potential and was anxious to work with the people involved, like Denis Villeneuve and Ryan Gosling. It felt it was a great opportunity."
Ford has long been publicly displeased with the original Blade Runner based on a studio-imposed ending and unnecessary voice-over, but as the film grew in stature over the years, Scott was able to fashion a version that Ford felt was more satisfactory.
"There were a variety of endings to that movie. And it ended with Ridley's final cut. I was much happier with that version than the one with the voice-over and sailing into the sunset," he shares. "I've thought about the film frequently and have been reminded of how many filmmakers took inspiration from the film and how it defined a certain kind of visual storytelling and affected our culture. Many of the things that were imagined might be part of the future."
In the laconic fashion that defines Ford's screen persona, the actor shares what he remembers from filming the original Blade Runner.
"It was raining. I was tired. I was happy with the long-term eventual movie. It was a remarkable experience with Ridley and the rest of the people involved, but it's a long time ago, in a world far, far away."

The sequel, Blade Runner 2049, takes place roughly 30 years after the original and stars Gosling as K, who like Deckard before him, is tasked to hunt down the original series of robotic replicants produced by the Tyrell corporation. Any further description of the film, apart from the obvious revelation that Rick Deckard returns to the film, would constitute a spoiler, considering the essential subject matter of the series is questioning what constitutes life and what does not.
What Gosling can reveal, however, is what it was like when Ford returned to the set for the first time.
"He arrived in a very cinematic way. We heard Harrison had landed. We heard Harrison was coming to set. We heard he had arrived. It was very darkly lit. You could only distinguish people by their silhouette," Gosling recounts. "Suddenly this very distinctive silhouette appears. He steps into the light, looks at me like I was an 8-year-old kid who just broke his window, and that immediately put us at ease. He's the best collaborator you could ever ask for, and he brings with him the experience and the intent of making something great."

Gosling himself was only an infant when the first Blade Runner was released, and thus first saw the original a decade after its release, when the film, once considered a disappointment, had blossomed into a modern classic.
"It's such a landmark film. I saw it when I was about 10 and expected a standard sci-fi movie, but what I experienced was something very different. What's interesting about the film is not just the experience of watching it, but how it stays with you. [At that age,] I wasn't asking myself what it means to be a human being, but I was afterward. Maybe not consciously, but subconsciously those seeds were planted. To read a script that was a love letter to the original and yet its own thing, it was respectfully carrying out the narratives and themes of the original, while introducing those conceptual ideas that were massive in scale and yet still emotional."

While Scott has notably returned to his classic works such as Alien multiple times, the director ceded directorial control of Blade Runner 2049 to Canadian director Denis Villeneuve, who earned an Oscar nomination last year for Arrival. Yet for Villeneuve, getting Scott's blessing was imperative.
"I organized a meeting with him right from the start," Villeneuve explains. "I wanted to be in the room with him and say to him: 'If you give me the blessing, I'll make the movie. If you don't, I will walk. I will make peace with that.'"
Scott, who serves as an executive producer on Blade Runner 2049, did give Villeneuve his blessing, and alongside the cast – which also includes Robin Wright, Jared Leto, Ana de Armas, Mackenzie Davis and Sylvia Hoeks in roles that vary from human to replicant and altogether different – Villeneuve brought in one of the great modern artists in film, cinematographer Roger Deakins.
"The first thing I did was ask Roger to get on board," Villeneuve notes. "The big difference with movies that I've done before is that I brought Roger in very early in the process. We had working sessions in Montreal for months with storyboard artists and designed the movie together. Everything was designed with those sessions with Roger. I made the movie with him all the way from day one to the very last screening."

The original Blade Runner was added to the National Film Registry in 1993, thus cementing the movie as a cornerstone of American film. When asked whether Villeneuve was worried about living up to the legacy of a film considered a national treasure in the United States, the director jokes that he felt no pressure.
"The good news is that I'm Canadian. I'm not worried about ruining a national treasure from the United States."
Blade Runner 2049 is in theaters Oct. 6.
Video Slider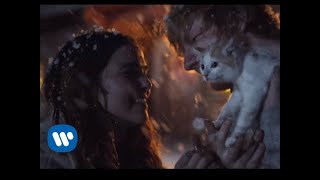 Win Tickets to See Ed Sheeran at the Rose Bowl
Ed Sheeran is back in Los Angeles, and your chance to see him perform is at the Rose Bowl in Pasadena on Saturday, Aug. 18. We are giving away complimentary tickets to the show. For a chance to enter to win, email us at info@lol-la.com with "Ed Sheeran" in the subject line and tell us why you would like to go.