A Hot, Tropical-Themed Night of Art and Music at Cuba Is Exhibit at the Annenberg Space for Photography
Leysis Quesada Vera, Avril and Thalia on the rooftop, Havana, 2017 (Annenberg Space for Photography)
On May 6, 2014, the Getty Foundation announced that it would provide $5 million in research grants to arts institutions in Southern California for an ambitious project called Pacific Standard Time: LA/LA, which sought to explore the influence of Latin America and Latino art in the area. This was augmented by another $8.5 million for the implementation of the project that will include over 50 exhibitions/events spanning from Santa Barbara to San Diego and would debut on September of 2017, continuing into 2018.
One of the early exhibits of this project, Cuba Is, had its opening reception on Friday evening, Sept. 8, at the stunning Annenberg Space for Photography located in the middle of Century City. This low-scale, two-level complex, which includes an outdoor amphitheater, sits surrounded by the adjacent high rises, including the iconic Century City Towers that were designed by Japanese-American architect Minoru Yamasaki who also designed the original World Trade Center.
The elegant plaza encompassing the exhibit was decked out in props and cocktail tables, attempting to give a Caribbean feel to the surroundings as the enormous crowd tried to get to the complimentary drinks as they enjoyed live music by local legendary salsa band Son Mayor. While many guests drank and danced, others stood in a rather long line in order to see the exhibit. As a Cuban-American who was born on the island, the idea of a long queue did not sit well, so I spent most of the first hour and a half on the dance floor enjoying the outdoor setting on a sultry, summer night while catching up with old friends and new acquaintances. 
We Cuban-Americans are always skeptical when a Cuba-themed project rolls into town because so many, if not most of them, seem to cast a sympathetic eye to the Castro dictatorship that has been around for almost 60 years. So, personally, it was refreshing to see that Cuba Is kept clear of any overt political images (with a few exceptions) and focused on what makes up current Cuban society. 
Curator Iliana Cepero from Stanford University has put together an impressive roster of Cuban, Cuban-American and international photographers along with videographers that chronicle the wide array of Cuba's current reality. Given my limited time viewing the works, I was impressed by the variety of images, people and types of creative expressions that stemmed from the mundane to self-expression, sexual identity and other themes. Some of my favorites included Leysis Quesada Vera's beautiful, color ballet-themed series and the stunning black-and-white images of Raúl Cañibano, which were first shot during the "special period" of the 1990s when the Soviet Union pulled its economic support from Cuba, and the economy collapsed. 
There were other highlights, such as Claudia Gonzalez's series on the LGBTQ community as well as Italian photographer Carolina Sandretto's series on the everyday, poor Cuban citizen living in dilapidated housing that has been neglected by the Castro government. The American photographer and filmmaker Michael Dweck brought some of his black-and-white series of the political and cultural elites in Cuba who enjoy perks and access to the chic nightlife in Havana. This was a well-kept secret until his Habana Libre photography book came out in 2011. 
Cuban-Americans were represented by New York-based Geandy Pavon, who photographed Cuban ex-political prisoners of the Castro dictatorship that currently reside in New Jersey, as well as Alexis Rodríguez-Duarte and Tico Torres who highlighted important Cuban-American figures like the late Celia Cruz and Israel "Cachao" López along with music diva Gloria Estefan, among others.
Even though the country of Cuba has been somewhat of a mystery to most Americans, this special Cuba Is photography exhibit sheds a lot of light on the current reality of the island. It may take more than one visit to observe all of the images, videos and ideas, but it is all worth it.
Cuba Is runs at the Annenberg Space for Photography (2000 Avenue of the Stars, Los Angeles 90067) through March 4, 2018. For more information, visit annenbergphotospace.org.
Video Slider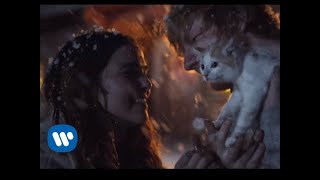 Win Tickets to See Ed Sheeran at the Rose Bowl
Ed Sheeran is back in Los Angeles, and your chance to see him perform is at the Rose Bowl in Pasadena on Saturday, Aug. 18. We are giving away complimentary tickets to the show. For a chance to enter to win, email us at info@lol-la.com with "Ed Sheeran" in the subject line and tell us why you would like to go.