Iceland Music Diva Björk in the Digital Age at Magic Box at the Reef
The island nation of Iceland lies in the most north/western part of the European continent and is the most sparely populated country of the region. With just over 300,000 inhabitants, its capital city of Reykjavík is home to 75 percent of the entire population on an area of 10,180,000 square kilometres (3,930,000 sq. miles).
For the past month and a half, the Los Angeles Philharmonic has been hosting the Reykjavík Festival curated by the LA Phil's past conductor and musical director Esa-Pekka Salonen and Icelandic composer Daníel Bjarnason. The festival, which continues till May 30 aims to showcase the creativity of this European capitol with a myriad of events which includes music, film, art, lectures and concerts.
Two of the most salient performances/events of this festival features one of Iceland's most important and best known artist/singer/actor/performer/composer/producer, Björk Guðmundsdóttir who is simply known as Björk. As a precursor to her May 30th debut concert at Walt Disney Hall (sorry, it's Sold Out) with a 32-piece string orchestra, a digital music/art/performance exhibit titled "Björk Digital" opened on Friday, May 19 at The Magic Box space located at The Reef/LA Mart in downtown Los Angeles.
Working with world-renowned directors, programmers and visual artists including LA's own Chinese-American artist/auteur/activist Andrew Thomas Huang, the exhibit consists of several "experiences" which include five state of the art videos shot in virtual reality (VR).
As people enter the reception/ticket area, on the left one can find a trove of Björk memorabilia while on the right side of the space stands the first of the stations of the exhibit. There, a series of tablets with state of the art headphones have been placed on a table where one can explore Björk's innovative applications highlighting the music, lyrics and other related ideas from her Biophilia (2011) recording.
Since there are limited numbers of stations for each "experience", small groups are formed at 15 minutes intervals and escorted thru the main six stations. The first of the videos (a non VR) "Black Lake", directed by Huang comes from Björk's most recent recording Vulnicura which is her 9th studio album. Written after the breakup of her marriage from American artist Matthew Barney in 2013 you could say that this is Björk's digital "Lemonade".
As you enter a dark, black painted, rectangular space you are confronted with two large screens on opposite sides of the room linked together by a series of state of the art sound system. Filmed in the highlands of Iceland, the mostly black and white images of Björk walking bare foot on a rocky landscape and inside caves are projected on both screens, but at times each from different angles. As she sings in that angelic but powerful operatic, soprano voice "Our love was my womb – But our bond has broken – My shield is gone – My protection is taken – I am one wound – My pulsating body – Suffering being" you can feel the raw emotion and pain in her voice while being accompanied by a sparse, melancholy string orchestration.
The second video "Stonemilker" (also directed by Huang), first track of Vulnicura and of the VR series, has Björk alone on a remote Iceland black sand beach dressed in a short, chartreuse, flowing dress with a shear long sleeve. In order to enjoy this work's 3D effect, one must put on a pair of state of the art oculus glasses and headphones which allows the person to see in the round as you move your head in any direction. With more upbeat lyrics and arrangements than "Black Lake" this song is more about healing as we watch one or sometimes two images of Björk surround the viewer.
Other VR videos presented showed mostly abstract, digitally rendered images along with more experimental layers of sounds and orchestration. They include "Mouthmantra" which puts the viewer literally inside of' Björk's mouth as she sings and "Notget", where one can inhabit a strange underwater landscape along with medusa-like creatures and a "digital Björk". While in most of these VR videos one is the spectator, in Family you are encouraged to interact in a surreal landscape by using a provided pair of handsets which activates virtual hands that can emit and move digital streams by a push of a button.
There is an operatic theme running through "Björk Digital" that along with its music, emotion and cutting edge technology makes this art experience very exciting. But what will be even more exciting is the experience of hearing and seeing her art live on May 30th at Walt Disney Concert Hall.
LA Phil presents Björk Digital now through June 4. For more information, visit LAPhil.com.
Video Slider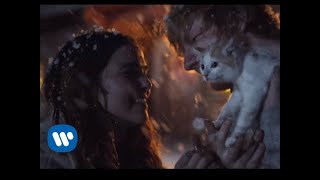 Win Tickets to See Ed Sheeran at the Rose Bowl
Ed Sheeran is back in Los Angeles, and your chance to see him perform is at the Rose Bowl in Pasadena on Saturday, Aug. 18. We are giving away complimentary tickets to the show. For a chance to enter to win, email us at info@lol-la.com with "Ed Sheeran" in the subject line and tell us why you would like to go.