In You're Killing Me Susana, Roberto Sneider Delivers a Hilarious, Unconventional Romantic Comedy
(l-r) Verónica Echeguin, Susana, and Gael García Bernal in Hola Mexico's You're Killing Me Susana. (Courtesy Photo)
Even though he co-writes the script, Roberto Sneider also directs and produces the very likable You're Killing Me Susana.
Balancing all of that proved to be challenging for Sneider, even with Luis Cámara serving as co-author of the screenplay.
"It is a challenge for sure … not so much for the screenwriting … but as a director you're like, 'Okay, I wrote that, but this could be better told visually this way or that way.' So you have a lot more elements as a director so you have to distance yourself a little bit from the scribe," says Sneider. "But for me, it is all natural because they are different activities completely. But to be honest, I don't find that challenging."
But what about producing it?
Sneider says, "The producing side of it, though (and I've produced almost everything I've directed), more and more I realize it would be great to have a strong producer to produce with me. And I've been in charge of all I've produced. But this was challenging so it's good to have a creative producer to work with."
In Hola Mexico's You're Killing Me Susana, Gael García Bernal plays Eligio, a charismatic actor who one morning awakes alone in his bed and later comes to the realization that his ridiculously beautiful and charming wife Susana (Verónica Echegui) is gone.
The film, which has earned mostly positive reviews thus far, is based on a novel by José Agustín.
Sneider acknowledges that he was 100 percent in charge of selecting the entire cast.
"Gael from the very beginning, I read this character and I thought he could play it. It was Gael for sure, and I think I was right, he is really good in that role," says Sneider. "I think it is a very challenging role to play, but he was able to identify with him, and he pulls it off. And also to keep it so real and not lose the complexity of the character was difficult, so I think you need an actor like Gael to come in and play that. So I think that was very fortunate."
Echegui, on the other hand, just came out of nowhere and captured the role throughout the research process of looking for someone to play opposite of García Bernal.
"In general, I tend to cast always the main character first and then see who could really be in this or that role and what really makes sense. In this case, there was really a lot of chemistry between them. So I saw Gael with a few actresses, but the moment I saw him with Verónica I thought, 'Okay. This is it. They have great chemistry.' That's how both he and I felt that Verónica should do it."
You're Killing Me Susana is not your typical romantic comedy that carries a normal love story. Rather, it is super funny in a delightfully, unconventional way.
"Yes, that's it," Sneider admits as he laughs with pure joy. "Comedy is about relationships, and you kind of relate to them. This is a dangerous yet messy and wonderful plot, and that's what appealed to me to this story. This is about a man who feels that his manhood is threatened by a woman who is strong, independent and smart like he is, and who is beautiful and feminine."
You're Killing Me Susana is now playing in select theaters in Los Angeles.
Video Slider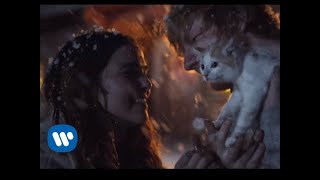 Win Tickets to See Ed Sheeran at the Rose Bowl
Ed Sheeran is back in Los Angeles, and your chance to see him perform is at the Rose Bowl in Pasadena on Saturday, Aug. 18. We are giving away complimentary tickets to the show. For a chance to enter to win, email us at info@lol-la.com with "Ed Sheeran" in the subject line and tell us why you would like to go.