Insidious: The Last Key Interview with Kirk Acevedo
January is starting off with some scares as the latest installment of the Insidious film franchise hits theaters.
In Insidious: The Last Key, actor Kirk Acevedo plays Ted Garza who finds himself a part of one Elise Rainier's (Lin Shaye) cases – one that might be hitting really close to home. Blumhouse presents the fourth installment of the terrifying series from writer Leigh Whannell and director Adam Robitel.
Living Out Loud – Los Angeles: With these types of films, supernatural occurrences seem to be commonplace when shooting, did anything happen on location?
Kirk Acevedo: I told somebody else one time, spirits or demons, they're not afraid of me. They don't want to talk to me.
LOL-LA: Going into this role, what was your preparation like?
KA: I had such a good time with everyone on the production, Leigh Whannell and Blumhouse. It was just the coolest. They let me do whatever I wanted to do and let me play. For me, it's playing along with there's something going on in the house, and the other part is being aware that you're in control. You're playing two different people.
LOL-LA: Was that a challenge for you?
KA: It was fun. I had to look the least edgy as possible.
LOL-LA: What would you tell readers to get them to see this film, which is a departure from the original two.
KA: If people love the films, the second one was my favorite one. The great thing about Blumhouse is that they're great about rebooting with like Annabelle and Annabelle Origins. They're trailblazers.
LOL-LA: What makes this a perfect fit for people to see?
KA: I would prefer to watch it in a small town, small theaters. The best experience to make it scary, as long as it's scary, you can watch it anywhere.
LOL-LA: What was it like to work with the rest of the cast?
KA: Everyone at Blumhouse, Adam Robitel and the family atmosphere – it was this great collective of artists and with lots of trust that let you play. For me, it was one of my favorite jobs because the willingness for people to do their own thing without people micromanaging you, which for me was great to not be micromanaged down to your underwear. With the Blumhouse folks, you can play and have fun. I had a great time doing it, and I hope everyone enjoys it and gets scared.
Insidious: the Last Key is now in theaters.
Marvin Vasquez contributed to this story.
Video Slider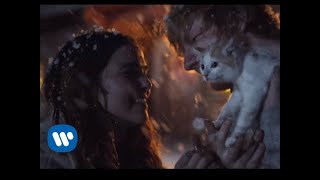 Win Tickets to See Ed Sheeran at the Rose Bowl
Ed Sheeran is back in Los Angeles, and your chance to see him perform is at the Rose Bowl in Pasadena on Saturday, Aug. 18. We are giving away complimentary tickets to the show. For a chance to enter to win, email us at info@lol-la.com with "Ed Sheeran" in the subject line and tell us why you would like to go.