Interview: Costume Designer Neysa Bové Talks Moana
Moana, voiced by Auli'i Cravalho, in Disney's Moana (Walt Disney Pictures)
As soon as Neysa Bové joined Walt Disney Animation Studios in 2014, she quickly became an imperative part of Disney's animated feature Moana.
"I was in charge of coming up with a costume and working with the other departments to do that," says Bové.
Bové, born and raised in Andorra, Spain, serves as costume designer for the film, predominantly for the central character, Moana, voiced by 16-year-old Auli'i Cravalho.
"With Moana's colors, we were doing the costume based on research," Bové says. "And based on the research, we knew the color is a sign of royalty within some of the islands."
Despite such a grand research team, Bové acknowledges that challenges arose.
"One of the challenges we had was working with such limited material," Bové says. "We did have material, but it was difficult to make because what we had was so unique. But you gotta put yourselves together and come up with something creative, and I think that's what we did."
Bové, now a native of Los Angeles, attended the Fashion Institute of Design & Merchandising and Cal Arts and gained much studious experience at both entities.
Before joining Disney, Bové worked at Mattel as a toy designer, designing Barbie Dolls. She also worked at Disney Consumer Products as a graphic designer.
Bové, directors Ron Clements and John Musker, and producer Osnat Shurer had constant communication and collaboration.
"Every day," Bové says as she laughs. "When you pitch anything … they have to see it. It's their film. So I think the collaboration was from head-to-toe in terms of the costumes."
Bové is currently slated to also provide her professional services on Disney's Gigantic, which releases in the fall of 2018.
"I'm excited," she says.
Moana is now available on Blue-ray and DVD.
Video Slider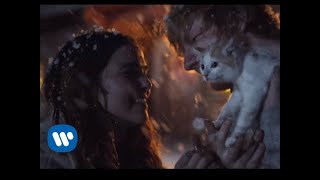 Win Tickets to See Ed Sheeran at the Rose Bowl
Ed Sheeran is back in Los Angeles, and your chance to see him perform is at the Rose Bowl in Pasadena on Saturday, Aug. 18. We are giving away complimentary tickets to the show. For a chance to enter to win, email us at info@lol-la.com with "Ed Sheeran" in the subject line and tell us why you would like to go.