An Interview with Director Rian Johnson and the Cast of Star Wars: The Last Jedi
Director Rian Johnson and Carrie Fisher on the set of Star Wars: The Last Jedi (David James)
As perhaps the most successful franchise in film history, a massive amount of secrecy surrounds every new Star Wars movie, and this applies even to Luke Skywalker himself, Mark Hamill, who after a bit part in The Force Awakens has a larger role in the eighth episode, written and directed by Rian Johnson, titled The Last Jedi.
"I have to be really careful," Hamill explains, "people would ask if it's difficult to pick up and wield a lightsaber again, and I have to say, 'Do I pick up a lightsaber?'"
What Hamill can confirm about his role in the film is a line heavily featured in the trailers for The Last Jedi.
"I don't think any line in the script epitomized my reaction more than 'This is not going to go the way you think.' Rian pushed me out of my comfort zone, as if I weren't intimidated and terrified to begin with, but I'm grateful, because you have to trust someone, and he was the only Obi-Wan available to me."
After 40 years, the cast members freely drop the names of the characters from the previous films like Obi-Wan Kenobi and Yoda, safe in the conclusion that everyone will know them. They are so deeply embedded in the cultural consciousness that even the few people who have never seen a single Star Wars movie know who Darth Vader is and how he relates to Luke Skywalker.
For anyone who works on a Star Wars film, that means undertaking a massive amount of responsibility, particularly for Johnson, the director of Looper and Brick, who is the only person other than George Lucas himself to single-handedly write and direct an installment of the franchise.
"I'm the new boyfriend at Thanksgiving dinner," Johnson jokes about his role joining the franchise.
"Even standing up here, I see the big Star Wars logo behind me, and I think 'Do I belong here?'" Johnson explains. "There's no Eureka moment where you feel that you're really doing it. You're always riding that line between feeling like you're a fan who snuck in the back gate and is getting away with something, which is probably a good thing."
As the second film in the trilogy, The Last Jedi will have inevitable comparisons to The Empire Strikes Back, widely considered the greatest of the Star Wars films, in large part because it abandons the optimism of the first film and adopts a more fatalistic tone. Johnson was aware of that, and while making The Last Jedi wanted to make sure that the film balanced the sense of fun one expects from a Star Wars film with the solemnity of a mid-trilogy film.
"I think we've been trained to expect it'll be a little darker, and obviously it looks darker. The thing is that I loved the tone of the original films, and I think that J.J. Abrams captured that sense of fun in The Force Awakens. First and foremost we tried to make it feel like a Star Wars movie, and that means you have the intensity and the opera, but it also makes you want to come out of the theater and run in your backyard, grab your spaceship toys and fly them around. So we go to some intense places, but I hope that it's fun and funny."
What Johnson adds to the film is a moral complexity that is often lacking from the Star Wars universe, with its very deliberate delineation between the forces of dark and light. This was one of the aspects that most impressed Gwendolyn Christie, the "Game of Thrones" heroine who returns as the villainous Captain Phasma.
"The reason why the series resonated with us all so deeply is that its foundation is a story of good against evil and where that balance is, and how we see elements of characters we have not seen before that are unexpected. Because the world we live in is such a changing and evolving place, it retains those elements but resonates with what it is to follow your own human, dark, narcissistic tendencies."
Where The Last Jedi further departs from the previous films is its inclusion of numerous female roles (apart from Princess Leia, only three female characters have speaking roles in the original trilogy, and none have more than a few lines each). This was not lost on the protagonist of this trilogy, Daisy Ridley, who plays the orphaned Jedi trainee Rey.
"As a girl growing up in London, I knew there was a disparity in films but wasn't quite aware of it. When I got involved, I knew it was a big deal, but the response was so beyond anything I could have imagined. That's a testament to everyone who created the characters in the beginning."
Johnson continued to address the gender imbalance through the creation of two new characters, one played by Kelly Marie Tran and the other by recent Emmy winner Laura Dern, who praises the director for the complexity of her character.
"Rian is one of the most brilliantly subversive filmmakers I've been able to bear witness to," Dern explains. "I was moved by the fact that he wanted her strength to lead with a very deep femininity. To see a powerful female character also be feminine is something that moves away from the stereotype that a strong female character must be like the boys."
Of course, looming over the response to the completed film is the loss of Carrie Fisher, who died last year from a heart attack after completing production on The Last Jedi. The film feels like a celebration of both Fisher and the iconic character she created 40 years ago, and Dern commemorates her co-star in the film.
"We always had with Carrie, and not just Leia, her wisdom. People speak about people who are fearless and brave, and I've known a few people who would hold those descriptions. That's what moved me most about the icon she gave us, but also what she gave us individually and personally. Carrie was so directly able to be without shame, and to share her story, and to expect nothing less from any of us."
Star Wars: The Last Jedi is now in theaters.
Video Slider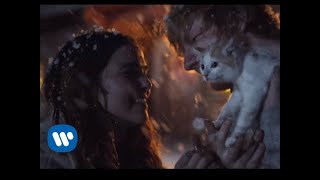 Win Tickets to See Ed Sheeran at the Rose Bowl
Ed Sheeran is back in Los Angeles, and your chance to see him perform is at the Rose Bowl in Pasadena on Saturday, Aug. 18. We are giving away complimentary tickets to the show. For a chance to enter to win, email us at info@lol-la.com with "Ed Sheeran" in the subject line and tell us why you would like to go.