Interview: For Mexican Costume Designer Mayes Rubeo, Hard Work Is the Secret to Her Success
Mayes C. Rubeo, Costume Designer of The Great Wall (Courtesy Image)
She's worked with prolific filmmakers including James Cameron, Oliver Stone and Andrew Stanton and is remarkably popular for her distinguished work in Apocalypto (2006), Avatar (2009), and World War Z (2013), among many other flicks.
She's a prime example of a Latina in Hollywood.
She's Mayes C. Rubeo, who just recently finished a tremendous line of costume design for Legendary and Universal Pictures' fantasy-adventure The Great Wall, starring Matt Damon and Pedro Pascal.
Rubeo was born and raised in Mexico City and over the years, her feats have taken her from project to project nonstop. Rubeo's hard work is of great value to her.
In this exclusive Q&A with Rubeo, she talks about making over 1,000 costumes for the movie, her open communication with director Zhang Yimou and the secret to her success, among other things.
Living Out Loud LA: What was the biggest challenge for you in The Great Wall?
Mayes Rubeo: "The biggest challenge was to make about 1,500 costumes and armors in time. There were six different regimens we had to decipher, that we had to create, so many different pieces for every soldier's costume. And in every step of the way, the director Zhang Yimou wanted to say something about the design and the color and the texture. It was a challenge. I'm happy we made it on time. It was wonderful."
LOL-LA: How important is that communication between you and the director throughout the process of costume design?
MR: "Oh it is vital. It is everything. You can't do this movie if you have a absent-kind of director or a director who is just going to leave it to you. This is really a hands-on director and I was very lucky to work with him."
LOL-LA: Have you gotten a chance to take a look at the final product of the movie?
MR: "No, I haven't. I haven't because I've been traveling, but I'll see it soon."
LOL-LA: How different is this costume design of The Great Wall compared to what you've done in the past?
MR: "It is completely different. It is a completely different culture that I was embracing for this project, which is China. And there are parameters that you have to respect in order to make these kind of costumes. Historical parameters I am talking about."
LOL-LA: Before deciding to take on this project, how much research did you do to gather more information about these historical parameters?
MR: We did initially a full, long two months of research and conceptual work and then we never stopped researching for the length of the movie. We kept going and kept researching all the time."
LOL-LA: What's the biggest thing that you learned from the Chinese culture?
MR: The tremendous loyalty that exists in that culture and [the] respect. That was the most contributing part that I observed and I was very happy to learn about this culture."
LOL-LA: Did you do other work while you were working on The Great Wall, or was this the only work you did at that time?
MR: "Yes, you bet. There is no other brain that you can find just to embrace one whole, big costume project like this one."
LOL-LA: What advise do you have for youngsters out there who might want to pursue a career in your industry and field?
MR: "Lots of hard work. Research. Tenacity. Constant thriving on art. Try to do a costume that is more for others than for you or your ego. Leave your ego outside and just serve the job to do your costume."
LOL-LA: What's been the secret to your success?
MR: "I work very hard. I find myself with no tax. I have no tax on me. So I can do any kind of work: Chinese, Mexican, futuristic, martians. That's what I do. I have no tax on me.
The Great Wall is now playing in theaters everywhere.
Video Slider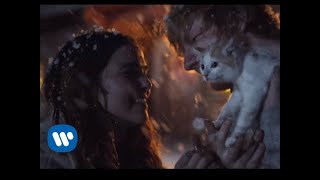 Win Tickets to See Ed Sheeran at the Rose Bowl
Ed Sheeran is back in Los Angeles, and your chance to see him perform is at the Rose Bowl in Pasadena on Saturday, Aug. 18. We are giving away complimentary tickets to the show. For a chance to enter to win, email us at info@lol-la.com with "Ed Sheeran" in the subject line and tell us why you would like to go.