Interview: Ice Cube, Charlie Day Fight It Out In Fist Fight
Ice Cube and Charlie Day star in Fist Fight. (Warner Bros. Pictures)
In Fist Fight, screenwriters Van Robichaux and Evan Susser had a vision: to provide a comedy for adults. But they never really knew how much improvisation would be allowed throughout the filmmaking process.
In fact, Robichaux does not shy away from being honest about the whole thing.
"It was about 70 percent script, 30 percent improvisation," Robichaux says, before acknowledging that that was the best possible way to have done this film.
Director Richie Keen says that they changed a few things in the casting process.
"We had to rewrite one of the characters to go to her," Keen says.
That "her" is comedian and actress Jillian Bell, who plays hilarious, horny counselor Holly.
"It was the nicest and most unnecessary thing anyone has ever done for me," Bell says before laughing out loud. "I was like, 'I love this script. I love you. I love who is in the movie,' and I was so happy that he wanted me to be in it."
The entire premise of Fist Fight revolves around two teachers: Ice Cube, who plays Mr. Ron Strickland, and Charlie Day, who plays Mr. Andy Campbell. After Mr. Campbell accidentally gets Mr. Strickland dismissed from his school job, Strickland challenges Campbell to an after-school fight. But what ensues in between the morning and day at school, is pure gold in terms of adult comedy.
Fist Fight also stars Tracy Morgan, Christina Hendricks, Dean Norris and JoAnna Garcia Swisher, among others.
Morgan, for one, had a lot of fun being back in action since that near-fatal accident some years ago.
"When Richie said, 'Cut', that's when I got uptight," he says in a jokingly way. "When he said, 'Action', that's when I relaxed."
"We actually learned that when I said cut when Tracy is on camera, it meant don't cut. We had to have a second camera rolling," Keen says.
Apparently, when Keen kept saying cut in Morgan's scenes, Morgan would almost always say something "remarkably funny," and the goal was to have that footage in case they decided to utilize it.
"Everything was funny to me after I was on the couch for a year after that Walmart truck hit me," Morgan says with no hesitation whatsoever. "I just let it all out."
Morgan adds, "Walmart can't stop me."
Morgan went on to say he was extremely thankful with Keen for believing in him for this role, a high-school physical education teacher.
But despite Morgan's emotional comeback, the camera belonged to both Ice Cube and Day.
"Cube was like a brother to me," Morgan says, who also acknowledges he is proud for being able to make people laugh. "He really encouraged me and relaxed me. I just had fun after that."
Ice Cube says Fist Fight is not your typical comedy.
"This is a movie about two teachers fighting, so we wanted to make sure we had a cool underlying message in that it was so outrageous and so unusual that, you know, you had two teachers fighting in that kind of way after school like students," says Ice Cube.
Day's preparation for the role entailed numerous things, including training for a fight.
"I trained for a week to learn how to create a fist without breaking my thumb," says Day as he smiles. "I trained with Yves Edwards, and I now have a lot more respect for those UFC guys and how tough they are."
Ice Cube says Fist Fight sports a theme.
"We wanted to make sure we had an underlying message, you know, talking about the school system and that you have one teacher who is hard and another who is trying to appease and get along with the students."
That was the underlying message, but the overlying message is to "have fun, laugh … this is really a popcorn movie; it's all about the fun in it," says Ice Cube.
Fist Fight is now in theaters nationwide.
Video Slider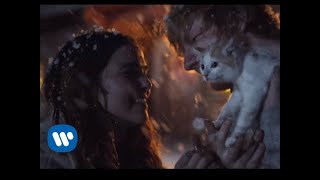 Win Tickets to See Ed Sheeran at the Rose Bowl
Ed Sheeran is back in Los Angeles, and your chance to see him perform is at the Rose Bowl in Pasadena on Saturday, Aug. 18. We are giving away complimentary tickets to the show. For a chance to enter to win, email us at info@lol-la.com with "Ed Sheeran" in the subject line and tell us why you would like to go.