Interview: Karla Souza Stars in Everybody Loves Somebody
Karla Souza as Clara Barron Karla Souza in Everybody Loves Somebody. (Courtesy of Pantelion Films)
One could say it was about time Hollywood experienced a treat from the Latino market such as the pleasant, romantic comedy Everybody Loves Somebody by Pantelion Films.
Karla Souza stars as Clara Barron, an electrifying, gorgeous and successful gynecologist living in Los Angeles with Mexican roots.
"It looks like she has everything until her ex reappears in her life," Souza shares. "She realizes she doesn't have things as together as she thought. And her family is very nosy and opines on her love life a lot … and that allows her to reasses her love life to go back to her past love or allow her to see new possibilities."
What makes Everybody Loves Somebody special is that it is bilingual, both in English and Spanish, and it definitely reaches many audiences. José María Yazpik, Ben O'Toole, Patricia Bernal, Tiaré Scanda and Alejandro Camacho star along Souza, 31, in the Catalina Aguilar Mastretta-directed and written flick.
What can viewers take away from this film?
Souza says, "I think there is something for everyone in this movie."
There is the relationship between Clara and her parents, the relationship between Clara and her sister, Clara's profession in the medical field, Clara's past love life and her new love life.
"My sister in the movie has a lot less tumultuous love relationship than mine," says Souza, who was born in Mexico City and made the jump Hollywood with almost no trouble at all. "There is also the love between the sisters, the love between the parents and the daughters, so I think it is for the whole family. And I think that they are going to enjoy seeing this Mexican family being represented in a luminous way."
On top of that, in Everybody Loves Somebody you can truly see an original bilingual comedy from beginning to end. And the cast chemistry has a lot to do with that on-screen success.
"I went into a deep depression after filming this movie," confesses Souza, who went on to say that shooting with the cast was pure joy, fun and some of the best times she's had working ever. "Catalina sort of wanted us to spend a lot time together on and off-set. So we became pretty close."
Perhaps that was Catalina's plan the whole time en route to finalizing this cinematic piece. "When people watch it, I think they will realize we had a really good time doing it," says Souza.
Everybody Loves Somebody, which was shot in both Los Angeles and Ensenada, Baja California, is basically an intimate look at family, relationships and love, according to Souza.
"Anyone can definitely go and have a laugh, and also definitely cry," Souza adds.
Everybody Loves Somebody is now playing in theaters nationwide.
Video Slider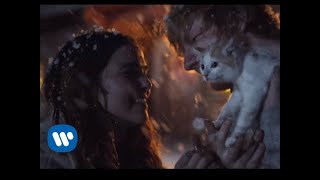 Win Tickets to See Ed Sheeran at the Rose Bowl
Ed Sheeran is back in Los Angeles, and your chance to see him perform is at the Rose Bowl in Pasadena on Saturday, Aug. 18. We are giving away complimentary tickets to the show. For a chance to enter to win, email us at info@lol-la.com with "Ed Sheeran" in the subject line and tell us why you would like to go.