It's Not Dead Festival Evokes the Spirit of Punk
Hermosa Beach's Pennywise hit the Main Stage at It's Not Dead Oct. 10.
When Kevin Lyman founded Warped Tour 20 years ago, it was out of a need to showcase the emerging mid-'90s punk explosion that included young bands like Blink-182, Green Day, MXPX, No Doubt and Sublime who were not getting the proper exposure they needed from mainstream music festivals. As the festival progressed to its current incarnation, the festival has branched out from beyond punk to embrace a wide variety of music from hardcore, metal and rap to EDM and whatever the hell you consider Black Veil Brides to be.
The essence of punk has always been creating a scene where a scene is needed. If people won't listen, play louder and make them. If there is no tour happening, make your own.
So when Warped Tour became the genre-defying, traveling mega festival it is known as today, many assumed the punk scene that it helped foster was lost. Punk rock needed a hero to resurrect it, and Lyman answered the call.
Lyman and partner John Reese are kicking off the inaugural It's Not Dead Fest on Oct. 10 at the San Manuel Amphitheater Festival Grounds. The festival is a nod to the bands that Lyman helped bring to the forefront of punk and hardcore nearly 20 years ago.
Headlined by legendary acts like Bad Religion, Pennywise, Descendents, TSOL and NOFX, It's Not Dead offers 35 bands on three stages, including punk and ska greats the Vandals, 7 Seconds, the Bouncing Souls, Anti-Flag, Strung Out, Fishbone, H20, Lagwagon, Goldfinger, Reel Big Fish, Less Than Jake and many more. The Adolescents, Agent Orange, Duane Peters Gunfight and Manic Hispanic represent the OC punk scene at the festival.
It's Not Dead also features an old-school skate/BMX jam, presented by Vans, which features such skateboarding legends as Steve Caballero, Christian Hosoi, Omar Hassan and Neal Hendrix along with pros Lizzie Armanto, Alex Perelson, Josh Borden and BMX rider Dennis McCoy. There is also an on-site art exhibition titled, Art's Not Dead, that is selling works from artists and photographers like Mark deSalvo, Dave Naz, Natalia Fabia, Lisa Johnson, B.J. Papas, Gregory Attonito, Chris Shary, Craig "Skibs" Barker, Jeff Alulis, Jason Cardwell and others.
As if BMX/skate jams, art exhibits and a killer lineup were not enough, the book signings tent highlights such celebrated punk rock authors as Jeff Alulis, Cecil Castellucci, TSOL's Jack Grisham and others.
Although the framework set by Warped Tour over 20 years ago has morphed into a gateway festival for younger generations to explore different types of music in one setting, It's Not Dead is the premiere festival for the die-hards, the older fans, like Lyman, who grew up with this unique and energetic genre.
Punk is dead? Far from it. It only needed a chance to make its voice heard again the only way it knows how: by cranking up the volume and getting the pit moving.
It's Not Dead Festival is Oct. 10 at San Manuel Amphitheater Festival Grounds. For tickets and more information, visit itsnotdeadfestival.com.
Video Slider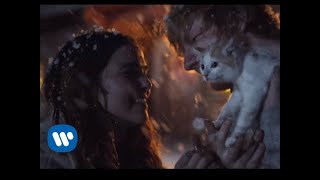 Win Tickets to See Ed Sheeran at the Rose Bowl
Ed Sheeran is back in Los Angeles, and your chance to see him perform is at the Rose Bowl in Pasadena on Saturday, Aug. 18. We are giving away complimentary tickets to the show. For a chance to enter to win, email us at info@lol-la.com with "Ed Sheeran" in the subject line and tell us why you would like to go.