Jorge Garcia Voices Germur in the Animated Comedy Film Rock Dog
Jorge Garcia voices Germur, right, in Rock Dog. (Courtesy of Lionsgate)
In the new animated, family comedy film Rock Dog, you can dream big with an all-star cast featuring Luke Wilson, Eddie Izzard, J.K. Simmons, Lewis Black, Kenan Thompson, Mae Whitman and Matt Dillon.
But you can also dream big with Jorge Garcia, who voices Germur. The character Germur is a mellow goat, but he can play those drums like no one else.
"As soon as they presented the opportunity, and they sent me a picture of [Germur], I immediately wanted to be a part of this," says Garcia when asked about what led him to take on this role of voicing Germur.
Garcia, who is a graduate of the University of California, Los Angeles (UCLA) and currently resides here in Los Angeles, also says he did not have much or any preparation for the role itself.
In some ways, Garcia and Germur are alike.
"We are both pretty laid back," he says. "We both definitely want everyone to get along. We both are pretty observant."
Rock Dog, based on the Chinese graphic novel Tibetan Rock Dog by Zheng Jun, follows Bodi (Wilson) as he chases his passion for music all the way to the front door of rock idol Angus Scattergood (Izzard).
"Rock Dog is one of those stories of a young dog trying to pursue a dream," says Garcia. "Bodi discovers rock 'n' roll through the radio, and he goes off."
Ash Brannon (Surf's Up, Toy Story 2) directs.
"My approach to directing is to guide the film as gently as possible, and allow for everyone to push the ideas, making room for possibility and happy accidents," Brannon says in a prepared statement.
"This approach extended to the recording of our actors; the usual method is to record each actor separately," adds Brannon. "In the case of Rock Dog we brought them together, allowing them the freedom to play off each other and to improvise, and we walked away with superb performances and deeper characters."
Garcia, who admits that his biggest challenge in his career has been becoming and being a public figure, says, "We got to be in the same room as [everyone]. We shared physical space, and we got to react off of each other. And that's what really, I think, made the experience an organic, happy experience."
In Rock Dog, you have an animated comedy that is just perfect for the entire family, and your kids will love it.
"When I got to see the movie, I loved the feeling of walking away. I'm really proud. I hope everyone likes it," Garcia says.
Rock Dog is now playing in theaters.
Video Slider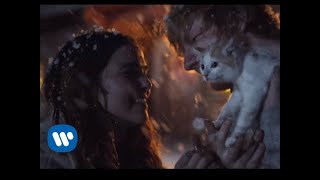 Win Tickets to See Ed Sheeran at the Rose Bowl
Ed Sheeran is back in Los Angeles, and your chance to see him perform is at the Rose Bowl in Pasadena on Saturday, Aug. 18. We are giving away complimentary tickets to the show. For a chance to enter to win, email us at info@lol-la.com with "Ed Sheeran" in the subject line and tell us why you would like to go.