Josh Brolin, Miles Teller, Jennifer Connelly and Jeff Bridges Discuss Only the Brave
"Supe" Eric Marsh (Josh Brolin) and Brendan McDonough (Miles Teller) in Only the Brave (Richard Foreman)
In 2013, 19 of the 20 members of the Granite Mountain Hotshots were killed during the Yarnell Hill Fire that the team of firefighters was sent to contain in the Arizona mountains. The story of these men has been brought to the screen in Only the Brave, starring Josh Brolin, Miles Teller, Jennifer Connelly and Jeff Bridges. The story is a personal one for Brolin, who plays Eric Marsh, the leader of the Granite Mountain Gotshots during the blaze, for despite his long career as an actor, Brolin himself was a volunteer firefighter in his youth.

"I knew about the Yarnell Hill Fire when it happened because I grew up in a firefighting community. I was a volunteer firefighter at age 21, and even though I was working as an actor at the time, I never told the producers," Brolin explains. "I preferred spending time with firefighters than with actors, so I spent three years in Tucson, and it meant a lot to me. When the Yarnell Hill Fire happened, a lot of the firefighters I knew went to the funeral."

Brolin had basic firefighting training, but he and the rest of the cast members had to undergo an intense boot camp to approximate what the Hotshots had to endure. As Teller, who plays the rookie firefighter Brendan McDonough explains, the training for the film far surpassed their expectations.

"I think I underestimated the physical aspect of the job. I knew it would be tough, but I wasn't versed on Hotshot training before I showed up," he says. "We filmed in Santa Fe, which is the highest altitude capital in the country, 7,500 feet above sea level, and we filmed in some locations that were 10,000 feet above. Josh gave everyone chlorophyll, which helps your blood oxygenate better, but it was still tough."

Teller calls boot camp "a kick in the gut," and further explains how the training for it was key to their later experience actually filming.

"I don't think anything brings you together better than collective suffering. That's what they did. It didn't matter if it was someone's first movie just because he looked like the guy, or if you were Josh Brolin, our leader at the top of the call sheet. There was an open-door policy, and Josh was the catalyst behind this."

Brolin agrees with his young co-star's assessment of the camaraderie on set.

"There's always a bubble you experience in a movie, but this one stood out after 50 movies as the number one communal experience I've ever had."

Despite the tough conditions that the actors faced on set, they remained well aware that it hardly compared to what the firefighters they portrayed went through on a regular basis.

"One of the Hotshots said that the truth is that you'll never know what it's like to be a hotshot, but we're glad you're representing us," Brolin recounts. "It was nice to get that kind of honesty from someone who was there and trained these guys. As actors, we put ourselves in a situation where there was no comfort. There were no laggards, no entitlement."

The intense conditions on set even extended to the one role in the film that you would least expect to have dangerous conditions. As Marsh's wife, Amanda, Jennifer Connelly spent a great deal of time working with horses since her real-life counterpart, whom Connelly spent a great deal of time with before shooting, worked as a horse trainer.

"I spent a lot of time trying to, because spending time with horses was such a big part of Amanda's life, and I wanted to honor that and respect her sensibility," Connelly recalls. "I actually rode with her, and I worked with her trying to get horses to lie down, and worked with her with the trimming of the horses. I had some hiccups. I had a horse that went a little frisky on me and threw me off. That was a little jarring. But I got back in the saddle, as it were."

Only one of the actors escaped the grueling conditions that most of them faced, and that was Jeff Bridges, who plays Duane Steinbrick, who manages the hotshot crew. Bridges met Duane and invited him to stay with him before filming, and the two found a great deal in common.

"One of the things I couldn't believe was that in his spare time, Duane had a country band called the Rusty Pistols," the sometime musician explains. "Duane came out, and we jammed, and there's nothing like music that can bring you together with someone. My dear friend T-Bone Burnett ended up producing the song that we sing in the movie, and we used the real Rusty Pistols."
For Bridges, fighting fire is an issue nearly as personal as it was to Brolin, although not necessarily by choice.

"I had a sort of intimate relationship with fire. I hadn't been an actual firefighter, but I've helped fight fires out in Montana. Fires break out around people's houses, and you get out your shovels to help. I've lost 400 acres to fire and was just at my daughter's wedding in Montana, and we were circled by it. My wife has been evacuated from our house in Santa Barbara three times while
I've been away making movies, and I've lost a house in Malibu. So it's something that you pay attention to."

Bridges muses about the heroism that it must take to perform tasks like the Granite Mountain Hotshots did with a stream of consciousness speech that recalls some of his most notable characters.

"To me, personally, we are all asked to be brave in our own lives, and bravery is such an interesting thing. I don't know if fear is a requirement for bravery, or whether bravery takes practice to engage in that sort of thing," Bridges says. "And it can inspire you to take action. When I came through the door and saw the film's logo, I love that. It's not what stands in front of you, it's who stands beside you. That's it, man! Life if full of fear, but you've got these people next to you. That's inspiring!"
Only the Brave is in theaters Oct. 20. 
Video Slider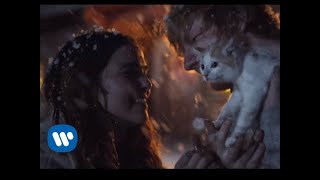 Win Tickets to See Ed Sheeran at the Rose Bowl
Ed Sheeran is back in Los Angeles, and your chance to see him perform is at the Rose Bowl in Pasadena on Saturday, Aug. 18. We are giving away complimentary tickets to the show. For a chance to enter to win, email us at info@lol-la.com with "Ed Sheeran" in the subject line and tell us why you would like to go.