Juanita's Foods Joins Forces with Mexican Stars to Keep Tradition Alive
Angélica María and Angélica Vale launch Vive La Tradición with students from he International Culinary Schools at the Art Institutes.
For most households, there are certain foods that are associated with a certain memory. For many Mexican households, Juanita's Foods has played a special role and become synonymous with family meals.
Having been around since 1946, Juanita's Foods is all about tradition and authentic canned Mexican food. Teaming up with the Juanita's Foods and the International Culinary Schools at the Art Institutes to launch "Vive La Tradición" are two household names and icons in most Mexican homes.
Legendary actress/singer Angélica María and her daughter, actress/comedian Angélica Vale, have joined the campaign that places emphasis on the importance of preserving Mexican culinary traditions, like menudo.
They gathered with guests last month during a celebratory event. The Mexican-themed breakfast buffet allowed for a discussion of the role that food plays when it comes to Mexican identity. Along with being able to take part in a conversation with the mother-daughter duo, attendees feasted on Juanita's delicious menudo and pozole.
In an effort to raise awareness and put the word out there, the two will be releasing a series of social media videos with more information. In honor of the campaign, the Vive la Tradición Homemade Menudo Contest is currently begin held (deadline Nov. 5, 2017) to crown the king or queen of homemade menudo.
To enter the competition, contestants must register online and submit a video describing why their menudo is the best. The Grand Finale will take place in January 2018, which holds significance since the month was declared National Menudo Month.
Additionally, students at the International Culinary Schools at the Art Institutes will be able to show off their cooking skills and earn scholarships by creating their own menudo recipes.
For more information about the campaign, visit vivelatradicion.com and make sure to follow Juanita's Foods on social media to get updates.
Video Slider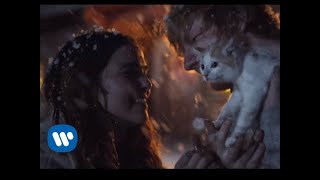 Win Tickets to See Ed Sheeran at the Rose Bowl
Ed Sheeran is back in Los Angeles, and your chance to see him perform is at the Rose Bowl in Pasadena on Saturday, Aug. 18. We are giving away complimentary tickets to the show. For a chance to enter to win, email us at info@lol-la.com with "Ed Sheeran" in the subject line and tell us why you would like to go.