Julio Macat Discusses Shooting Daddy's Home 2
Mark Wahlberg (Dusty) and Will Ferrell (Brad) star in Daddy's Home 2. (Paramount Pictures)
Take a break from the crazy shopping crowds and head to the movies for a few laughs this holiday season. Make sure to add the comedy, Daddy's Home 2 to your list of films to watch.
The film, directed by Sean Anders is already out in theaters.
The sequel to Daddy's Home, once again stars the hilarious Will Ferrell (Brad) and Mark Wahlberg (Dusty), only this time the two have joined forces to give their kids the perfect Christmas.
However, their newfound friendship is tested when Dusty's macho dad (played by Mel Gibson) and Brad's ultra-affectionate dad (John Lithgow) arrive to create complete chaos.
According to Julio Macat, Director of Photography, audiences will not be disappointed as the sequel is even funnier than the original.
Macat began his career at age 19 and has since worked on a plethora of #1 box office hits including Home Alone I & II, Ace Ventura: Pet Detective, and Wedding Crashers.
One of his biggest skills is not over lighting comedies and when it came to shooting the film, there was no room for mistakes he said.
"There's no room for going beyond schedule, these guys [Ferrell and Wahlberg] go from movie to movie so we had to follow the time frame," he explained.
"Fortunately we had a really great team in place, the relationship with the actors helped since there was already a trust level by doing the first movie."
With the talents of Lithgow and Gibson joining the cast, Macat said the main concern when shooting the film was to not disappoint fans of the first film.
Better yet, the goal was to create something that was even funnier and would be family friendly without alienating audiences who prefer comedies with a bit more crass to them.
He ensures movie-goers that the lack of toilet jokes, curse words and sexual jokes won't take away from the hilarity of the plot.
"In this day and age, If you want to go out and enjoy yourself then it's the perfect movie to go watch," he said.
Audiences can expect to see and feel classic Christmas vibes (think the feeling you get when watching Home Alone).
While there's plenty of laughs, Macat says that the stakes were raised and the ending is beautiful and will leave people leaving the theater in a good mood.
"What makes every comedy a great comedy is infusing hearts and suddenly taking a left turn and really making you feel sad for the characters," he said.
"It's a beautiful script by Sean Anders and John Morris."
Take your friends and family out to see the film and share some laughs. Check your local theaters for show times.
Daddy's Home 2 is now in theaters.
Marvin Vasquez contributed to this story.
Video Slider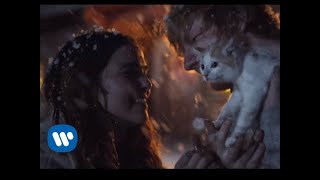 Win Tickets to See Ed Sheeran at the Rose Bowl
Ed Sheeran is back in Los Angeles, and your chance to see him perform is at the Rose Bowl in Pasadena on Saturday, Aug. 18. We are giving away complimentary tickets to the show. For a chance to enter to win, email us at info@lol-la.com with "Ed Sheeran" in the subject line and tell us why you would like to go.