Keep Things Pure with WaterPura
"WaterPura is one less worry."
When it comes to baby wipes, a quick glance at the ingredient list can leave heads spinning. Parents of infants go through them like crazy, and often times, even those that use "natural" ingredients can cause bad reactions on sensitive baby skin.
For the founder of WaterPura, Emily Frazer, a chemical-free alternative to conventional baby wipes was the most important thing to create. In April of 2016, WaterPura was launched and gave consumers a product that was safe to use on any skin type.
The wipes can be purchased in nine packs of 60 (540 wipes). They're all natural, chemical-free, soft and strong, feature no fragrance or oils which can potentially irritate the skin and are American-made. In fact, they contain 99.9% water and 0.1% citrus extract while other wipes contain dangerous preservatives.
WaterPura Chemical-Free Baby Wipes are sold for $31.50 and can be purchased at waterpuracare.com. You can also use the website to find stores near you that sell the wipes.
Wipes are used on the most sensitive areas and need to be gentle. If you have a baby, check out the site for a list of harmful chemicals that are used in wipes from other brands.
Below is a Q&A with Frazer and a more in-depth look at the brand.
LOL-LA: What inspired WaterPura? 
EF: My son, Archie. He was born with very sensitive skin and had horrible side effects when we used traditional baby wipes. I tried to buy the most "natural" wipe on the market, but nothing helped. I finally started making wipes in my kitchen with just water, and his irritation went away. That inspired me to create WaterPura.
LOL-LA: At first, what was the biggest challenge for you, and how did you overcome it? 
EF: At the time, I was working full-time for another company. Trying to continue that work, plus develop this product AND take care of my family proved to be very challenging. Thankfully I have an incredible family, who have all supported this product and my desire to make it a reality.  
LOL-LA: Waterpura is the only American-made, chemical-free baby wipe in the world. How much pride do you take in that? 
EF: It feels amazing. I'm so proud of this product, and so proud that it's made right here in the USA.
LOL-LA: What's the number one reason parents or parents-to-be should purchase WaterPura's wipes over others? 
EF: Quality. It's an amazing wipe with such versatility. I use them every day in so many different ways.  
LOL-LA: Where do you see WaterPura in the next three to five years? 
EF: In the coming years, I hope to try and educate every parent that there's an alternative to chemical-laden baby wipes, and the dangers these chemicals can have on your child. I'd love for these wipes to be available all over the country, and for a price we can all afford.  
LOL-LA: Anything else to add?
EF: I urge every parent to take a closer look at the chemicals in their baby wipes and give WaterPura a try. There's no need to learn the hard way that your child is allergic or sensitive to those chemicals (like we had to). WaterPura is one less worry.
Video Slider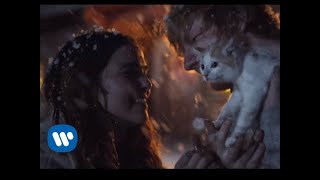 Win Tickets to See Ed Sheeran at the Rose Bowl
Ed Sheeran is back in Los Angeles, and your chance to see him perform is at the Rose Bowl in Pasadena on Saturday, Aug. 18. We are giving away complimentary tickets to the show. For a chance to enter to win, email us at info@lol-la.com with "Ed Sheeran" in the subject line and tell us why you would like to go.