Keeping Up with Legends Football League's Monique Gaxiola
Monique Gaxiola is dedicated and disciplined both on and off the football field.
Monique Gaxiola's life moves so rapidly it's difficult to keep track of her.
Breaking norms and conventions along the way, her job today as linebacker of the Los Angeles Temptation of the Legends Football League is to keep track of the quarterback and always stay a step ahead of her competition on the gridiron the way she's mastered to do so outside of it. From a very young age Gaxiola has had an adventurous trajectory to where she is today.
"I had just turned 17," she recalls of her time with the Mexican under-19 women's national soccer team while still a standout soccer player at Kennedy High School. "I went to open tryouts, and I didn't know exactly what I was getting myself into. I just knew I wanted to play soccer at the highest level of women's soccer.
"Being Mexican, I was able to get my Mexican citizenship through my biological father, so that made me eligible to try out for the team. I didn't know how talented I really was until I was called back after the open tryouts. Out of about a hundred girls I was one of five players and probably one of the youngest. I was basically flying back and forth to Mexico City. I don't speak Spanish fluently, [but] I could understand it. It was scary being out there in Mexico City as a teen."
It's one thing to be a young woman far from home. But when you're a teenage girl far from home, and you're in a different country and you don't speak the language, being far from home is an experience that will help shape who you are.
Today, nearly 10 years after she was in Mexico's capital following her dreams abroad, Gaxiola continues to face life with the same approach, albeit much closer to home. As linebacker for the Temptation, she spends her weekends at the Los Angeles Memorial Coliseum, the same field that has seen male football stars pursue their gridiron dreams with the USC Trojans, which also happens to be her alma mater.
When asked what her motivation was in high school, her answer is simple: "Playing soccer."
"Ultimately after high school I didn't have any major plans," she says. "But I knew if I wanted to continue to play soccer I needed to continue to go to school."
She had various opportunities to play soccer at other Division 1 universities, but her decision to go from Pierce College to USC became easy when one of the coaches she met while with the Mexican women's national team was hired to be the head coach of the Trojans.
"It was a huge transition going from a junior college to a major university," she says about the challenges that arose while at USC. Nevertheless, she graduated with a degree in communications and moved on to her next set of challenges in life.
Today, Gaxiola's daily schedule is unenviable, to say the least. Most of her weekdays begin at 5 a.m. when she leads a class of cross-fit. She does training of her own for an hour immediately after finishing with her class, which is sandwiched in between another class of cross-fit. All this before most people are clocking into work.
Then she heads to the after school program she runs, where she spends most of her afternoon. After dinner, there is a little downtime before she heads to bed early to be ready for another day. Gaxiola acknowledges her days are far from mundane, and admits it isn't easy to maintain that type of routine.
"It's difficult, but those are all things that I love to do in life as of now. I love working with kids, I started doing cross-fit four or five years ago. Since the first day I started I've been addicted to it. And playing for the LFL, same thing, I step up to that field, and again, it's something that I love to do. I also became addicted to the sport. It does become very difficult, especially in season, I don't have a lot of down time."
The operative phrase in the quote above is "as of now" because there is no telling what she will set her sights on in the near future. For now, she does her part to ensure the LFL remains a viable league in a world where sports leagues outside the NFL, NBA, NBA and NHL struggle to stay afloat.
"We pretty much have to get the word out as far as when our games are," she says. "Ticket sales, promoting the game, making sure that people come to watch us – because if we have an empty stadium this league isn't going to continue for long."
The future of the LFL is not set in stone, and thus, Gaxiola may one day have to seek out her next adventure. But then again, her thirst for adventure has always come from within and has never hinged on anyone or anything else.
Monique Gaxiola's next game with the Los Angeles Temptation airs on Fuse tomorrow, Saturday June 6 at 9pm/8c against the Seattle Mist as part of "LFL Football Night." For more information, visit http://www.fuse.tv/shows/legends-football-league.

Video Slider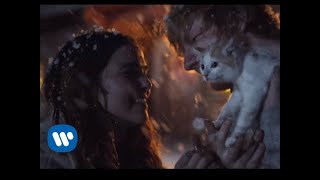 Win Tickets to See Ed Sheeran at the Rose Bowl
Ed Sheeran is back in Los Angeles, and your chance to see him perform is at the Rose Bowl in Pasadena on Saturday, Aug. 18. We are giving away complimentary tickets to the show. For a chance to enter to win, email us at info@lol-la.com with "Ed Sheeran" in the subject line and tell us why you would like to go.