Knock Knock Turns Fantasies into Nightmares
Lorenza Izzo, Keanu Reeves and Ana de Armas in Knock Knock
Leave it to Eli Roth to turn a seemingly perfect life into a dark and twisted reality. His latest film, Knock Knock, revolves around architect Evan (Keanu Reeves), a devoted husband and father who is left home alone for the weekend.
Or at least that was the plan, until two young women (Lorenza Izzo and Ana de Armas) unexpectedly show up asking for help. Unfortunately for the father of two, what starts off as an innocent gesture, quickly changes as his fantasies begin to play out.
Too bad those fantasies don't have a happy ending. Think Fatal Attraction meets The Strangers. In a game of cat and mouse, Izzo and de Armas' characters make it clear that breaking the rules is unacceptable.
Starting today, Oct. 9, the film is out in theaters and available On Demand.
Izzo and de Armas recorded a brief video encouraging fans to check out Knock Knock.
To watch the official trailer, visit youtube.com/watch?v=ti6S3NZ5mKI.
Video Slider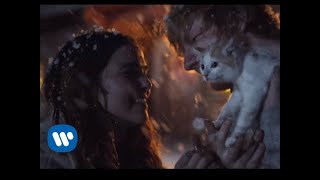 Win Tickets to See Ed Sheeran at the Rose Bowl
Ed Sheeran is back in Los Angeles, and your chance to see him perform is at the Rose Bowl in Pasadena on Saturday, Aug. 18. We are giving away complimentary tickets to the show. For a chance to enter to win, email us at info@lol-la.com with "Ed Sheeran" in the subject line and tell us why you would like to go.