Knott's Scary Farm 2017: Shoot Zombies, See Elvira and Escape New Terrors
Knott's Scary Farm's Special Ops: Infected is the best maze and haunt experience in SoCal.
The spirit of Halloween is unleashed at Knott's Scary Farm with its SoCal tradition of terrifying tricks and campy treats. For this year's Halloween haunt, the theme park welcomes back a slew of classic faves, two new mazes and, of course, Elvira Mistress of the Dark in her last year performing at the park. Shows, ride overlays and the best in mazes – there's no shortage of things to do for a thrilling good time.
Here's a rundown of our favorite attractions that you can't miss at this year's haunt.
Halloween Hootenany Log Ride: Yes, I know a log ride involves the possibility of getting wet and at night for Scary Farm could be seen as a bad idea. But you gotta trust us on this, the Halloween ride overlay is delightfully spooky with some live-action surprises hidden among the animatronics. Plus, it's really just a little bit of a splash, which you might need to cool down from the mazes.
Scare Zone Fun: Scares are all around, even when you aren't in mazes. No one does it like Scary Farm in having big areas around the park with swarms of monsters, ghouls, demented clowns and hordes of the undead at EVERY turn. And they commit, playing around with attendees and chasing them through the fog in many cases. It's great to just people-watch but just be warned there will always be someone watching you.
Elvira Mistress of the Dark: Legendary entertainer and horror hostess with the mostest is presenting her last show at Knott's. In her final residency, Elvira showcases what makes her the best in live dark comedy performance and dance numbers. Her biting humor and powerful assets are iconic and never to be missed.
Trick or Treat: Lights Out: The most festive and traditional maze at the haunt gets a new spin this year that makes it creepier than ever. Armed with a small flashlight, you get to enter the Green Witch's house that's overrun with her minions hiding in the dark. Honestly, I think the flashlight's only use is to give your location away and help the monsters find you. It's a great new way to experience a maze favorite that plays on having a fear of the dark. It's quite effective.
Pumpkin Eater: I like to call this one the revenge of the pumpkins where, instead of it being pumpkin season, it's human season, and you're fresh meat. It's a clever spin on the pumpkin craze that shows us how pumpkins might feel about how much of them we consume this time of year. We go through the inside of killer pumpkins and see some awesome set pieces of tasty humans strewn about. The gory sights and pumpkin smells are amazing. We loved the texture of the rooms with the stringy insides of pumpkins hanging.
Paranormal Inc.: This maze is back with its killer stunt work and cool, hybrid-tech experience. You're following a team of television ghost hunters as they encounter spirits that aren't OK with trending online. With two different paths, you might get separated from your crew in this thrilling maze. The only thing is, that much like a show, we'd like to see this updated next year still following Paranormal Inc. but on a new ghost hunt.
Dark Ride: Our favorite new maze takes haunt-goers through a demented theme park dark ride that's been taken over by angry and crazed attraction performers who have been worked to death. They're bloodthirsty and have created a nightmare experience that pokes fun at other places with rides that breakdown and has funhouse aspects that mashes up the world of theme parks gone bad.
Special Ops: Infected: We cannot stress enough that this is the best maze and haunt experience in SoCal that annually we just want more of. You and your team are armed with high-tech laser tag guns and are able to live out your dreams of going on a zombie hunting spree. You venture with a special ops team through a city ravaged by a zombie virus to find a cure and get headshots. We miss the aspect of the first run where you could run out of ammo and need to find reload points because it would up the fear factor ante, but we also get that, because of timing issues, unlimited ammo works as a fun free for all. We still think this should be expanded at soak city as an add-on event as well. But for now, this maze is why we think everyone should opt for getting a Fright Fast Lane pass to be able to experience this multiple times alone.
Knott's Scary Farm runs through Oct. 31 with tickets starting at $40. For more information, visit knotts.com/play/scary-farm.
Video Slider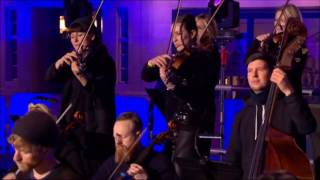 Win Tickets to See Pete Tong at Hollywood Bowl
Pete Tong is back in Los Angeles, and your chance to see him perform is at Hollywood Bowl on Thursday, Nov. 9. We are giving away complimentary tickets to the show. For a chance to enter to win, email us at info@lol-la.com with "Pete Tong" in the subject line and tell us why you would like to go.