L Festival Brings Together the Latin Community
Alejandro Fernandez (Courtesy Photo)
There's no better way to kick off the music festival season than by turning up the heat with some Latin tunes.
The largest Latin music & cultural festival in the county, L Festival, is coming into town on March 18th and 19th.
Some of the biggest names from the Latin music scene will be taking the stage at the Pico Rivera Sports Arena.
Produced by Universal Music Latin Entertainment and AEG / Goldenvoice, many of the artists will be appearing on the same bill for the first time.
"Goldenvoice is excited to join forces once again with our long standing partner UMLE. We are confident that our expertise in live shows and the festival business will contribute to the festival's growth. We have an incredible line-up that represents all spectrums of the Latin community and we are committed to giving them an unforgettable experience at L Fest," says Rebeca Leon, SVP, Latin Talent, Goldenvoice.
The superstars include Marco Antonio Solís, Alejandro Fernandez, Juanes, Daddy Yankee, J Balvin, Los Tigres del Norte, Banda El Recodo, Jesse & Joy, Luis Fonsi and many more. Another important feature is the scheduled Jennifer Rivera hologram performance on Sunday, March 19th.
But the lineup also includes the likes of Alx Veliz, DJ Alex Sensation, La Séptima Banda, Jose Manuel Figueroa, Sebastián Yatra, La Fame, Jesus Mendoza, Cali y Dandee, Feid, Cynthia Silva, Lupita Infante, Alcover, Cheyo Carrillo, El Conjunto Nueva Ola, and many others more..
Chances are, if you grew up in a Latin household, you grew up with many of the musicians.
In fact, for many, Marco Antonio Solís, Los Tigres Del Norte, Banda El Recordo and Jenni Rivera were/are the usuals when it comes to party playlists.
The festival will feature two stages over both nights: the Festival Stage and the Sports Area Stage.
For the first night, you'll be able to catch Juanes, Alejandro Fernandez, Banda El Recordo and more.
In fact, the show time for Saturdays line up on the L Festival Stage is 5:25 p.m. with the last artist taking the stage at 11:30 p.m.
The Sports Arena Stage will kick things off at 3:00 pm.
As if Saturday wasn't exiting enough, Marco Antonio Solís, Los Tigres Del Norte and J Balvin will be performing Sunday.
Intended to be suitable for families and people of all ages, the celebration of culture will also feature international food vendors, an art exhibit and more.
The roster was created for fans of various genres/artists and will leave everyone happy and more importantly, creates a sense of community within the arena.
An additional special touch to the festival is the first live concert performance from Luis Fonsi and Daddy Yankee with their smash hit "Despacito."
The track has become a sensation and hit no.1 on the Latin Song Billboard charts.
Concertgoers will have 30 artists, multiple stages, an insane amount of fun and two days to experience it all. Doors will be open at 1 p.m. all weekend.
Tickets are on sale now and can be purchased from www.lfestival.com.
General admission, VIP and Gold VIP tickets are available to choose from.
General admission prices range from $89 (single day) $149 (both days) while VIP goes from $160 for single day, or $259 for both days.
If you're looking to get the full VIP treatment with private bathrooms, private bars, dinner and snacks, and a private area next to the main stage, it'll set you back $225.
For a full list of performers and set times, visit www.lfestival.com.
This is one weekend you won't want to miss. Bring your family and friends and experience an unforgettable amount of talent.
Marvin Vasquez contributed to this story.
Video Slider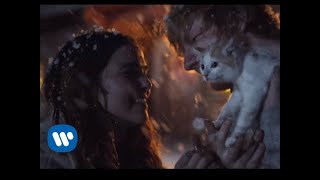 Win Tickets to See Ed Sheeran at the Rose Bowl
Ed Sheeran is back in Los Angeles, and your chance to see him perform is at the Rose Bowl in Pasadena on Saturday, Aug. 18. We are giving away complimentary tickets to the show. For a chance to enter to win, email us at info@lol-la.com with "Ed Sheeran" in the subject line and tell us why you would like to go.