L.A. Hidden Gems 101: The Last Bookstore
Have an adventure exploring the Last Bookstore. (Marvin Vasquez/Living Out Loud LA)
The moment that steps are taken into the Last Bookstore, life unfolds like in the movies. No, really – it's breathtaking. You're Belle the moment she walks into Beast's library in Beauty and the Beast. Rest assured, it doesn't matter if you're a man or woman, you feel like Belle. There are waves of books cascading around the walls surrounding the aisles of stacks that greet you with the scent of pages just waiting to be engulfed in.
On the first floor, you see the various genre departments to find whichever book you seek to suit your needs. New and used fiction, literature, non-fiction, art, poetry and comics line the shelves of the bookstore's third incarnation. In 2005, it first opened its doors as a small buy-and-sell loft space before eventually moving to the Old Bank District off 5th and Spring and expanding into the book haven that it is today. Within the first floor there is a vinyl section, comics have their own mini shop adjacent to the book stacks and, in the center, there is a stage for readings and performances. On any given day, you can walk in and spectate a magic show  or open mic while perusing the selections.
If you're a book lover, chances are you may have seen the Book Tunnel in the Labyrinth on the Mezzanine level of the Last Bookstore on sites like Tumblr or Pinterest. It's the lovely art installation that is bordering on book porn, which you could walk through and have a moment of wonder in or, you know, share a moment of wonder in.
In order to get to the Labyrinth and the tunnel once you're at the bookstore, you have to walk up a series of creaky wooden stairs that lead you to a fantastic adventure. You're met with an empty chair that has a typewriter hanging over it, pages fly from it above you in a flurry of words. There is an invitation to take a box or cart with you as you're warned that every book on that level is a dollar. You may think you are just going to grab a movie or two, but in time you'll find the need go back and yes, you will grab treasure you missed the first time.
For example, on the right just past the doorway in, there is an open vault that is a nook of sci-fi curios filled with novels and pulp centering around the genre. Old knobs and radio parts echo with the buzz of the place. It's especially eerie if you're by yourself. You tinker, and it tinkers with you. It's a place where you feel like an adventure awaits in every corner and where you wish characters would spring to life from its pages to pull you along.
Losing track of time is incredibly easy here and must be prepared for. Don't go too crazy downstairs because the second floor will take a toll on your wallet. You can bet your bottom dollar you won't regret it. From old books to VHS and vinyls, the various rooms seduce you to run your fingers along the spines to pluck out a selection to take home with you.
Once you find your way through the weaving rows of the kaleidoscope of books, there is even a selection of art galleries to check out artists in residence in and small vintage oddity shops. There is so much to find! A videocassette copy of RoboCop that you haven't had since you were a kid reminds you of the first time you saw the film. The satisfaction of finding a copy of Dune in the printing you're collecting Herbert's series in. "Much Ado About Nothing" in a pocket size to carry with you and rehearse with. Thingamabobs like old board games, typewriters and high-tea hats to invoke that spirit of nostalgia.
In a world where things are going digital, here is a place to hold tangible creations that will say a lot about you. That's the magic in the Last Bookstore: The things you find once you go in compose you. It's the hidden gem of Los Angeles where the treasure you walk out with reveals you.
The Last Bookstore is located at 453 S. Spring St., Ground Floor, Downtown. For more information, call (213) 488-0599 or visit lastbookstorela.com.
Video Slider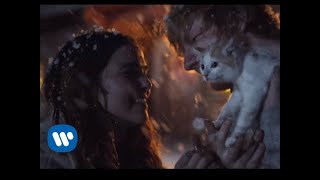 Win Tickets to See Ed Sheeran at the Rose Bowl
Ed Sheeran is back in Los Angeles, and your chance to see him perform is at the Rose Bowl in Pasadena on Saturday, Aug. 18. We are giving away complimentary tickets to the show. For a chance to enter to win, email us at info@lol-la.com with "Ed Sheeran" in the subject line and tell us why you would like to go.