L.A. Tattoo Shops on Instagram
Hollywood's True Tattoo does some eye-catching Japanese art-inspired pieces. (Instagram)
If you've lived in Los Angeles long enough, you know that tattoos are one of the biggest parts of L.A. culture. Tattoos are an expression of who you are and what you believe in; it's an art form that has been around for centuries. Whether it's text, a portrait or something wild, having a tattoo shares a story. Now that the later parts of summer are here, you may be interested in getting your first one or adding to the ones you already have.
Finding a shop with good artists can be stressful. Here are three tattoo shops with some of the best artists in the industry that are right here in Southern California.
Captured Tattoo (@capturedtattoo) – Captured Tattoo features a wide variety of tattoos, from traditional portraits to anything in between. Located in Tustin, Calif., this shop features an arsenal of notable tattoo artists in the industry, including Dan Smith. Head over to the shop's Instagram where you can find photos of everyday shop life and also get a look at the tattoos they do on a daily basis.
True Tattoo (@thetruetattoo) – Located in Hollywood, True Tattoo is one of the biggest shops in the country, owned by Oliver Peck who is a judge on SPIKE TV's "Ink Master." The shop's motto is simple: "Good People Good Tattoos." True Tattoos' Instagram features the same styles as most tattoo shops, but what sets them apart from others is their ability to do breathtaking, Japanese art-inspired tattoos.
High Voltage Tattoo (@highvoltagetat) – One of the most famous tattoo shops in the world is High Voltage Tattoo. With an all-star lineup of artists, the shop boasts an even bigger list of celebrity clients that include Lady Gaga, the Game, Soulja Boy and Steve-O just to name a few. High Voltage has become so popular that it is now a worldwide brand. That comes as no surprise, as the shop's owner is none other than Kat Von D. Head over to the High Voltage Instagram page for behind-the-scenes looks at the day-to-day operations of one of the most famous tattoo shops in the world.
Video Slider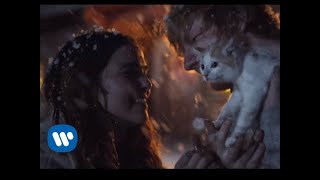 Win Tickets to See Ed Sheeran at the Rose Bowl
Ed Sheeran is back in Los Angeles, and your chance to see him perform is at the Rose Bowl in Pasadena on Saturday, Aug. 18. We are giving away complimentary tickets to the show. For a chance to enter to win, email us at info@lol-la.com with "Ed Sheeran" in the subject line and tell us why you would like to go.