LA Philharmonic Announces Exhilarating 2014-15 Season at Walt Disney Concert Hall
Walt Disney Concert Hall is set to host a myriad of illustrious artists for the 2014-2015 season. (LA Phil)
Music director and conductor Gustavo Dudamel, alongside President and CEO Deborah Borda have announced the Los Angeles Philharmonic 2014-2015 season.
"The Los Angeles Philharmonic's 2014-15 season offers a diverse range of programs designed to reflect the depth of the orchestra's artistry and the breadth of its innovations on stage and in the community," said Borda. "Audiences are changing and we embrace that change. In keeping with the vision of the LA Phil as a 21st century orchestra, we are addressing that evolution with new programmatic ideas that keep moving music forward."
Borda added, "This investment in the future of concert-going is expressed through the energy of our presentations to create more interactive content, reflecting the priorities of Los Angeles as a creative center."
To no one's surprise, the programming will include a very progressive lineup that showcases a wide range of styles, and works by both timeless masters and contemporary composers.
Dudamel, in his 5th season as musical director, conveyed great enthusiasm for the upcoming season, particularly about the many collaborations we have to look forward to.
"The new season holds so many treasures for me," he said. "Most particularly the collaborations with such a diverse array of artists and composers. Many old friends are returning, and many new ones are arriving, particularly within the Contemporary Americans festival."
Dudamel added, " What makes the Los Angeles Philharmonic so different and distinctive is the great repertoire that we perform from across the centuries, combining the old with the new. This season, I will be conducting 6 new commissions, 5 of which will be world premieres. The sense of the adventure is what makes the Los Angeles Philharmonic so unique and special to me."
One of the highlights of this season is the ever-growing use of multimedia integration in several of the programs, including "Inside the Music with Brian Lauritzen" which will feature multiple video installations, pre and post-concert discussions and an online forum. Other notable multimedia-rich programs include MTT@70, which will celebrate world-renowned conductor Michael Tilson Thomas's 70th birthday as he leads the London Symphony Orchestra as they perform works by Sibelius and Gershwin.
The LA Phil is also adding new performance series to the calendar, such as in/SIGHT, a Friday evening series featuring works by prominent video artists along with orchestral and choral selections.
The new season at the LA Phil will also continue to feature its signature programs such as Baroque Variations and the Colburn Celebrity Recitals.
For more information and a detailed calendar listing, visit www.laphil.com.
Video Slider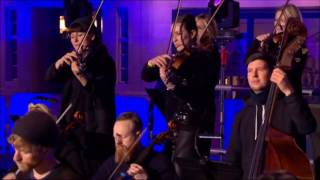 Win Tickets to See Pete Tong at Hollywood Bowl
Pete Tong is back in Los Angeles, and your chance to see him perform is at Hollywood Bowl on Thursday, Nov. 9. We are giving away complimentary tickets to the show. For a chance to enter to win, email us at info@lol-la.com with "Pete Tong" in the subject line and tell us why you would like to go.