LA Times The Taste: Best Block Party Around
Discover a whole new world in just one bite at The Taste. (Ariel Paredes/LOL-LA)
Los Angeles Times The Taste held its annual food and wine festival on Paramount's backlot, which never fails to delight. Jonathan Gold always curates a fantastic mix of panels, food and libations from Los Angeles and its nearby environs. The Taste provides such a great opportunity for up-and-coming restaurants, established locales and food connoisseurs to all come together for one indulgent weekend.
This year felt a bit more paired down compared to other years, but the festival continues to have quality panels with chefs, sommeliers and delicious food on display in booth after booth. It's always refreshing to see new people come to this event for the first time and their eyes open wide with so many exquisite choices. The advice that all veterans give is to simply, "Pace yourself."
Each year the themes stay the same, but the mix of restaurants are always new and exciting. The Taste offers every type of cuisine from Mexican, Indian, Italian and New-American to seafood, gluten free, vegan and everything in between. No one type of cuisine or emerging trend is left out during this festival, and same goes for the drinks! There is always water aplenty to stay hydrated between all the different types of alcohol that are present. Such premium brands as Zyr Vodka, Bacardi, Stella Artois, Coppola Wines, Avion Tequila and many more enrich the festive culinary happenings. 
Some of the standouts from this year's festival happened at each of the four different events: Field to Fork, Dinner with a Twist, Sunday Block Party and Flavors of LA. The Pasta Sisters served their family's Bolognese dish Sunday evening and twisted fresh pasta all night. Their restaurant hasn't even opened yet, so this was great exposure. E.A.K. Ramen was also a hit with lines curving around the pavement. They have an interesting gimmick that works and makes eating the seaweed slice dipped in the ramen really fun. They engrave each piece with edible ingredients stating, "But First, Ramen."
Georgie of Beverly Hills managed to put out beautiful bites of food that were almost too pretty to eat. Smoked Beef Cheeks with creamy whipped polenta and crispy cornbread sprinkled on top was delectable. There was Blue Ribbon Sushi making made-to-order rolls with the freshest ingredients, Slapfish with its famous Surf 'N' Turf lobster and beef burger, Chez Tex with a Valencian Paella, Tao with Bao Pork Buns, Frankland's Crab & Co with fresh crab meat on a buttery bread, Gus's World Famous Fried Chicken and Burritos La Palma are a few of the vendors that were mouth watering.
This annual event is always a treat with a live DJ spinning tunes while you talk to other food enthusiasts in line. You can even position yourself during these waits and catch a panel of two. It's always fun to see Jonathan Gold interview the likes of Danny Trejo about his new restaurant, cooking demos by Sang Yoon of Lukshon and Chris Phelps of Salt's Cure talk about the status of brunch.
Don't miss next year's festival when it happens over the Labor Day weekend. You may discover a whole new world in one small bite.
Video Slider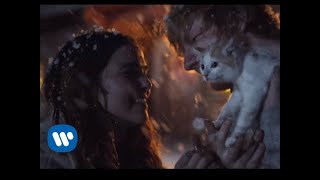 Win Tickets to See Ed Sheeran at the Rose Bowl
Ed Sheeran is back in Los Angeles, and your chance to see him perform is at the Rose Bowl in Pasadena on Saturday, Aug. 18. We are giving away complimentary tickets to the show. For a chance to enter to win, email us at info@lol-la.com with "Ed Sheeran" in the subject line and tell us why you would like to go.