Liam Neeson Discusses Delving into the Life of Mark Felt: The Man Who Brought Down the White House
Liam Neeson as Mark Felt (Bob Mahoney/Sony Pictures Classics)
Before Liam Neeson fashioned a new career in the past decade as an action star, the Irish actor was once better known for serious biopics, playing such figures as Oskar Schindler in Steven Spielberg's Oscar-winning classic and sex researcher Alfred Kinsey in Bill Condon's Kinsey. The Irish actor returns to his roots as a serious dramatic actor with Mark Felt: The Man Who Brought Down the White House, in which he stars as the Watergate figure known for decades only as Deep Throat thanks to Woodward and Bernstein's reporting in All the President's Men. Despite the significance of Watergate in American history, Neeson had to learn more about the downfall of President Nixon.
"I knew very little about Mark Felt, because in the early '70s we were going through our own Troubles. When director Peter Landesman asked me to be in this, it was a whole new learning curve for me, and I was inspired. It was an extraordinary story of the work the FBI did along with Woodward and Bernstein to gradually uncover and expose the criminality," Neeson says.  
For most people, the conception of Felt during the Watergate years is as a shadowy figure passing along information to Bob Woodward in secluded parking garages, but Neeson wanted to give a fuller portrait of the man, his role in the FBI and his life at home.
"There was very little known about his relationship with his wife and daughter, who had just left the family to join a commune. Bob Woodward knew little about that aspect. It shows how he was trained to compartmentalize by J. Edgar Hoover. That's what they do," he tells. "In the interviews I saw of him, you thought you could see the man, but there was always a screen there, and as an actor, I find that interesting."
Neeson muses that this quality to Felt is something necessary to surviving professions like police work.
"I think that's true of policemen, people in the military. They always have to keep their emotions in check, or else they wouldn't be able to do their jobs: fighting people, arresting people, spying on people. Sometimes it's at great cost to their family life to keep all of this emotion in check, but there are still beating hearts there."
Felt's family relationships were the aspects of Felt's life that fascinated Neeson the most, particularly with his wife, played in the film by Diane Lane.
"We shot a lot more scenes with Diane, which may be on the DVD or in a Director's Cut. I'm sad that we lost some of that, because as devoted as Felt was to the FBI, he was also devoted to his wife. She stood by him all through the stress, and in the end, shot herself with his service revolver."  
Part of the complexity of Mark Felt was that his motivations for exposing the nefarious doings during Watergate were clouded by the man's personal ambition.
"I don't think the ambition comes out as much in the script as the guy was like," Neeson explains. "G. Gordon Liddy said he was known in the FBI as a torpedo, meaning he would go through anything in any situation to advance himself. He was very hurt that he was passed over when Hoover died. It didn't crush him, but he was deeply hurt. I didn't want to play him as a black-and-white hero.
It is hard to look at any retelling of the Watergate story and the Vietnam protests of that era without making parallels to contemporary events, as Neeson notes.
"As a citizen of a country, you have the right to protest. I'm not going to attack the Trump administration, but it's great to see Americans protesting, especially women."
Neeson himself cannot say whether the parallels between Nixon during Watergate and Trump's suspected collusion with Russia will lead to the same conclusion, but notes that there is a reason to feel suspect.
"As one political analyst said when asked if there was collusion between Russia and Trump, where there's smoke, there's fire. And there's a lot of smoke."
Mark Felt: The Man Who Brought Down the White House is now in theaters.
Video Slider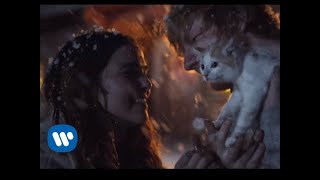 Win Tickets to See Ed Sheeran at the Rose Bowl
Ed Sheeran is back in Los Angeles, and your chance to see him perform is at the Rose Bowl in Pasadena on Saturday, Aug. 18. We are giving away complimentary tickets to the show. For a chance to enter to win, email us at info@lol-la.com with "Ed Sheeran" in the subject line and tell us why you would like to go.