Local Cuban Artist Dayren Santamaria Talks About Her Music and Upcoming Presentation at Ford Amphitheatre
See Dayren Santamaria perform at Ford Amphitheatre this Friday.
The country of Cuba is well known for its musical heritage that has influenced world music for the past 200 years. Most people associate it with the invention of Latin jazz in the early 20th century or, more recently, with the worldwide phenomenon known as the Buena Vista Social Club. We in Los Angeles are very lucky to be in the path of tours by many Cuban artists who live on the island as well as those who have decided to call the City of Angels their home. 
One of most recent arrivals on the L.A. music scene from Cuba (via Tampa) is violin virtuoso Dayren Santamaria, who hails from the beautiful city of Matanzas in the northern part of Cuba, which is the gateway to the famous Varadero Beach. Santamaria is a classically trained violinist and was part of the famous all-female chamber ensemble Camerata Romeu, founded and directed by Zenaida Castro Romeu from the iconic Romeu musical family. Interesting enough, I had the pleasure of seeing Santamaria play at Cal State Northridge many years ago, and now we connect again to discuss her latest presentation on Friday, Aug. 25 at the Ford Amphitheatre, where she will share the stage with Cuba-based Afro-Cuban jazz group Sintesis, which was founded in 1974. 
LOL-LA: What was the first instrument you picked up as a child? What made you gravitate to this instrument more than another?
DS: When I was 6 years old, my mother (a theater actress) and my father (1st clarinet of the Symphony Orchestra in Matanzas) asked me if I wanted to play an instrument, and if so which one. I quickly grabbed a little guitar I had and a stick, and I pretended to be playing violin and say, "I want to play this one … the violin." My mom and dad asked me, "What about the piano?," and I said, "No, no, no, I want to play the violin." After many years, now looking back, I believe that the violin chose me at that age. My parents took me to the auditions, and after successful results, a few months later, I was starting my musical journey at the EVA (Vocational School of Arts) in Matanzas.
LOL: What made you choose the USA and specifically Los Angeles to settle in and showcase your talent? 
DS: The second time I came to the USA was on a trip to perform at the University South Florida in Tampa. As soon as I got to Tampa I felt the same peaceful breeze that I would feel in Matanzas. I felt right away that I could live there. I was in Tampa for five years when I decided to move to Los Angeles.
LOL : You have played with many important artists/musicians such as Andy Garcia and Oscar Hernandez among others. What made you want to have your own recording? How was the process to write and choose the songs on the album?
DS: I feel very blessed for having the opportunity to spend time, share music and laughs with Andy Garcia, Oscar Hernandez and many other great musicians and performers. With Andy and Oscar I don't share just music, I ask them for advice about life, I tell them about my relationships, and many other important and non-important things. All of that makes our musical moments even more special. It's a great pleasure and honor to perform with Andy Garcia's CineSon All Stars, as well as performing with Oscar Hernandez when we both were members of Jose Rizo's Mongorama.
LOL: You are currently working with Grammy winner producer/pianist/composer Oscar Hernandez, founder of the Spanish Harlem Orchestra. How did you happen to meet and decide to collaborate with him as part of your group, Made in Cuba? 
DS: I met Oscar because Perico Hernandez recommended me to be part of Jose Rizo's Mongorama. Oscar was playing piano and also doing many of the arrangements for the band. I fell in love with his arrangements, and two years later I decided to take some of my original melodies and share them with Oscar. He is such a wonderful person. We did my first CD, titled Belleza, and we already have eight arrangements complete for our next CD project.   
LOL: Who was the person who put this program at the Ford Amphitheatre together with you along with Cuban group Sintesis? Can you give us some details on how it happened? 
DS: My very good friend Adolfo Nodal! I love him so much! I met Adolfo the first time I came to USA in 2001 playing with the female ensemble Camerata Romeu. He organized our tour. He was so positive all the time and excited about us being there performing that everyone had a magic time on that trip. Al is that super smart, gentle and humble man that everyone loves. He has so many friends. The saying of "You can count your true friends on one hand" has nothing to do with Al. He has many, many, many best friends! And I'm very honored to be one of them. 
LOL: You have a young daughter, how has being a mother influenced your art?
DS: My princess. My experience of motherhood have been very beautiful, not very easy, but very beautiful and keeps given me an abundance of strength. All of those wonderful moments (the first time I held my daughter in my arms, watching her sleep, experiencing her pushing me off the bed while sleeping, watching her get upset, doing homeschooling with her, enjoying her smile and laugh), all of these beautiful moments and more are combined in a bliss that lives permanently inside me. I carry that bliss with me everywhere I go, and when I perform, I share that bliss with the audience.
Dayren Santamaria performs at the Ford Amphitheater on Aug. 25. For tickets and more information, visit fordtheatres.org/calendar/s%C3%ADntesis-dayren-santamaria.
Video Slider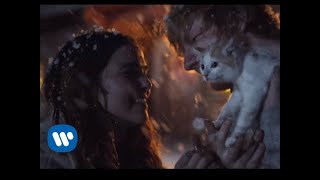 Win Tickets to See Ed Sheeran at the Rose Bowl
Ed Sheeran is back in Los Angeles, and your chance to see him perform is at the Rose Bowl in Pasadena on Saturday, Aug. 18. We are giving away complimentary tickets to the show. For a chance to enter to win, email us at info@lol-la.com with "Ed Sheeran" in the subject line and tell us why you would like to go.