A Look at This Year's Oscar Nominated Shorts
"The White Helmets" centers around first responders in Syria tasked with rescuing bombing victims from the rubble.
Every year, Oscar pools are won and lost on the strength of voters choosing the films nominated in each of the categories honoring short films. By this point, everyone knows that La La Land will earn anywhere from six to 11 statues and that Viola Davis will pretend to be surprised when she wins for Fences. Los Angeles audiences, however, get the opportunity to view the short films, which have been collected for release in local theaters, each of which demonstrates a range of styles, tones and subject matter.
Best Documentary Short Subject
The Documentary Short Subject category often focuses primarily on social issues of the day, and three of these deal with the migrant crisis in the Middle East. The best of these is "The White Helmets," which centers around a group of first responders in Syria tasked with rescuing bombing victims from the rubble. The directors of "The White Helmets" get a harrowing, intensely close look on the ground in Syria, yet still find inspiration in the courage and selflessness of the first responders. This is the most overtly cinematic of the five films and portends a fine career for Orlando von Einseidel, who receives his second nomination in the category.
The other two documentary shorts concerning the refugee crisis are slighter than "The White Helmets." "4.1 Miles" is a depiction of a Greek coast guard captain who is charged with saving the many refugees from drowning at sea. "Watani: My Homeland" depicts the journey of several Syrian refugees from their escape from Aleppo to their eventual settlement in a small town in Germany where they must adapt to their different circumstances. While both films are fine, they pale in comparison to the excitement of "The White Helmets."
The fourth of the documentaries, "Extremis," is a look at patients at the end stage of life and the decisions that families must make for ailing family members with terminal conditions. It is a brutally frank look at death and dying that makes the case for shifting people's perspectives on end-of-life care. Standing quite apart from its competition in terms of tone is "Joe's Violin," the story of a Holocaust survivor who donates his violin to an instrument drive, where it comes into the possession of a 12-year-old girl from the Bronx. It's heartwarming, inspirational and deals with the Holocaust, thus it is hard to envision a circumstance in which it loses, particularly since the best film in the category, "The White Helmets," is nominated alongside two films about a similar subject.
Best Live Action Short Film
Subject matter from the Documentary Short subjects finds its way into the Live Action short category, with two of these short films dealing with immigration of Muslims into Europe. "Silent Nights" depicts the romance between a Danish volunteer and a refugee from Ghana. The message of this film becomes altered by a late revelation in the film, which speaks either to its moral complexity or its muddled message, depending on what one thinks of the movie. "Enemies Within" is the more effective immigrant film, this one focusing on the interrogation of an Algerian man living in France while he applies for French citizenship. The short is tense and effective.
The other French film in the category, "La Femme et la TGV," bears little resemblance to "Enemies Within." It is possibly the most traditionally Oscar-friendly film in this category, and one could easily see Harvey Weinstein spinning it to feature length and signing Judi Dench. The movie depicts a lonely, elderly French woman who begins an unlikely relationship with a train driver. Its success depends entirely on the performance by Jane Birkin, who gives the material more heft than it deserves.
The lightest and most creative of all the nominees is "Timecode," a funny lark depicting two security guards working shifts at a parking garage. The short may be silly and not have anything close to a serious message, but it is still delightful. "Sing" is a bit more serious but just as effective. A seemingly insubstantial story about two little girls who join a choir has an ending that is both surprisingly and utterly perfect. Either "Timecode" or "Sing" would be entirely worthy winners, but "Sing" will probably be victorious.
Best Animated Short Subject
None of the animated short subjects nominated this year deal with any weighty social issues, but that does not mean they are pure confections. "Blind Vaysha" is a fable about a woman who can only see the past and the future, but never the present. It relies perhaps too much on narration to tell its story rather than visual splendor, so it seems unlikely to emerge victorious. "Pearl" is a sentimental story about a father and daughter told primarily through music, and does a fine job telling what feels like a complete story in only a few minutes. Set in the old west, "Borrowed Time" is a different look at a parent-child relationship, telling the story of a man who remembers the death of his father decades before. The short film is both somber and visually-impressive.
Compared to the rest of the nominated shorts, "Pear Cider and Cigarettes" is a virtual epic, running three times longer than any of the other nominees. It is also far more adult than any of the films nominated, telling the story of a man attempting to help his self-destructive friend. It is the most striking of the nominees, but its frank subject matter might prove to be too much for voters who just want a cute cartoon about adorable animals. And for that, voters have the Pixar entry in the race, "Piper." There isn't much about "Piper" that marks it as a stand-out, but it feels like the most classic choice for voters, and a refreshing alternative to the weightier shorts. Even if "Pear Cider and Cigarettes" is the clear standout in the category, it is impossible to begrudge Pixar's baby birds.
For more information, visit shorts.tv/theoscarshorts.
Video Slider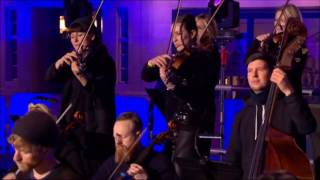 Win Tickets to See Pete Tong at Hollywood Bowl
Pete Tong is back in Los Angeles, and your chance to see him perform is at Hollywood Bowl on Thursday, Nov. 9. We are giving away complimentary tickets to the show. For a chance to enter to win, email us at info@lol-la.com with "Pete Tong" in the subject line and tell us why you would like to go.