Los Angeles Food & Wine Festival Begins with a BAM
Food and wine lovers gathered in Downtown for the first night of the Sixth Annual Los Angeles Food & Wine Festival. (TJ Webber/LOL-LA)
Every year Los Angeles Food & Wine Festival takes over the city, showcasing the finest L.A. chefs, winemakers and sommeliers over four days at locations from Hollywood and Downtown to Beverly Hills and Santa Monica. The sixth LA Food & Wine is no different, with events taking place from Aug. 25 through Sunday, Aug. 28, at 71 Above, Scopa Italian Roots, Paley, Hinoki & The Bird, Nickel Diner and more.
The first evening of LA Food & Wine, however, took place under the stars and twinkling lights of Downtown skyscrapers in front of the famed Walt Disney Concert Hall on Grand Avenue. Last night put the spotlight on one of the country's most familiar personalities, Chef Emeril Lagasse. The culinary great has a new show premiering on Amazon Sept. 2, "Eat the World with Emeril Lagasse," which follows him as he visits other noted chefs across the globe.
The celebrity chef was on hand to welcome food lovers to the festival as 24 stellar chefs and 68 wineries began to serve tastings of their fare. A glass of fresh-tasting Chardonnay from Lompoc's Melville Winery provided the perfect way to wake up my palate while I perused some booths. I first encountered Barb Batiste, owner and founder of B Sweet, offering a plate of savory Filipino Chicken Adobo, Pork Sisig, rice and refreshing Atchara (pickled papaya and carrot salad).
I continued to peruse bottles from vineyards all over California (Hope & Grace, Wind Gap, Tablas Creek, Priest Ranch) while enjoying Dry Aged Beef Tartare from Alexander's Steakhouse and a charcuterie plate from chi Spacca. I sipped a fruity Margarita Ultra from Lotería Grill to go along with tacos Chef Jimmy Shaw put together using Beer-Braised Beef Shank on top of a potato and poblano mash and blue corn tortillas. Also displaying Latin flair was Joe's Stone Crab of Miami with Pork Tamales topped with Queso Pimento and Salsa Verde.
While the huge bottle of Rosé from France's Miraval, glasses of sparkling Prosecco from Zonin and velvety Cabernet Sauvignon from Silver Oak Cellars looked appealing, I chose to go with a cocktail from Hendrick's Gin, the Melodious Melonade, which turned out to be my favorite of the night. The refreshing mix of Hendrick's with lemon and honeydew juices, simple syrup and melon tea was garnished with cucumber and really blew me away. Glenlivet provided another hard liquor option, with a cool interactive Aroma Station.
Chef Fabio Viviani ("Top Chef" season 5) stood at his Café Firenze booth that had the longest line of the fest since diners had to be given directions on how to eat the dish: Carefully stuff the Stracchino cheese, piece of prosciutto and truffle honey sitting atop a Coccoli (fried bread dough fritters) into the bread. Another long line formed in front of Chef Alvin Cailan (Eggslub, Amboy, Ramen Champ), who hosted his Unit 120 residents, Lasa, at his booth. Chase Valencia, Lasa's co-owner and general manager, handed out one of the best dishes of evening: their unique take on Pancit (egg noodles mixed with calamansi butter, Patis-cured egg yolk and scallions).
Other standouts were the Dayboat Scallop Brûlée from Patina Catering, Officine Brera's mouthwatering Pisarei e Faso (bread dumping with beans, cured pork and cheese), Garganelli pasta tossed with pork sausage and fennel pollen in a hollowed out round of 80-pound Parmesan by Chef Ian Gresik of DRAGO Centro and Spicy Fried Chicken Wings with Hot Chile Oil from inimitable host, Chef Lagasse.
The night wouldn't be complete without something sweet, and Chef Chris Ford of the Four Seasons Beverly Hills had a selection of French delights to satisfy. Patina Restaurant Group also served Whiskey Bon Bons with Dragon Breath meringues, but I was mesmerized by Sweet Lucie's plethora of ice cream treats. From traditional Mint Chocolate Chip to Vegan Earl Grey and a slew of ice cream sandwiches (The Chai Ice Cream between Oatmeal Raisin Cookies was delightful.), they had food-lovers departing on a sweet note.
Los Angeles Food & Wine Festival continues today (Friday, Aug. 26) with lunches hosted by the likes of Hugh Acheson, Jon Shook, Jeremy Fox, Antonia Lofaso, Jason Neroni, Evan Funke, Nyesha Arrington, David LeFevre and others; a Modern Diner Dinner with Chefs Bruce Kalman, Nick Shipp, Monica May and Duff Goldman; and Eater Presents a Night Market with Jet Tila Brian Malarkey. Saturday, Tyler Florence hosts Love on Grand with a performance by De La Soul, while you can hang at the Sunset Grill n' Chill with Rick Bayless. The festival is capped off by the Lexus Grand Tasting on Saturday and Sunday afternoon with 25 celebrity chefs and over 200 world-class wines.
For tickets and more information on the rest of this weekend's events, visit lafw.com.
Video Slider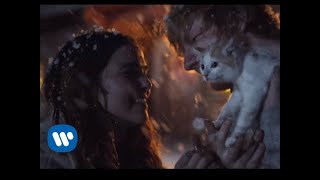 Win Tickets to See Ed Sheeran at the Rose Bowl
Ed Sheeran is back in Los Angeles, and your chance to see him perform is at the Rose Bowl in Pasadena on Saturday, Aug. 18. We are giving away complimentary tickets to the show. For a chance to enter to win, email us at info@lol-la.com with "Ed Sheeran" in the subject line and tell us why you would like to go.