Los Angeles Greek Film Festival Celebrates 11th Year with Building Bridges
Los Angeles Greek Film Festival opening feature, Amerika Square, was a powerful piece.
In the midst of Los Angeles' film festival season, the Los Angeles Greek Film Festival celebrated its 11th year at the Egyptian Theater in Hollywood, presenting 13 features, 22 shorts and 15 documentaries from around the globe including Greece, America, France, UK, Germany and Israel. 
The Greek community continued to pave its way in the film and TV industry with captivating and culturally relevant themes. The theme of the festival this year was "Building Bridges."
Aris Katopodis, Director of LAGFF, said, "Each title represents creating a bridge, whether it is between relationships, races or countries, and the problems and triumphs encountered in reaching the goal. It's important because it bridges the gap between Hollywood, Greece and the world. If it's shown here, it's shown to the world."
Sandra Seeling Lipsky, actress and Director of Mallorca international film festival, stressed the importance of international support.
"I'm here to support this festival because I think it's essential that we encourage and elevate European film culture, especially here in Los Angeles, the mecca of film and TV," said Lipsky.  
The multiple-day movie extravaganza showcased amazing documentaries and narrative films which help to educate the audience on the current cultural and political climate across the pond while providing insight into the historical events of one of the world's most ancient civilizations. 
"By doing this we can connect on another level and begin to bridge cultural barriers," added Lipsky. 
"Greece is exporting incredible movies right now. They have an amazing art scene that people are not aware of, outside of Europe," said a Greek actress based in Los Angeles. "Europeans are aware of it and Asia as well, to an extent, but the Americans and the Brits don't really. And for the past five years actually, Greeks are producing incredible movies, making very thought-provoking work, and I just think it's very relevant that it's here."
The week-long festival opened with a star-studded Red Carpet showcasing outstanding film and industry leaders. Athena Andreadis and guitarist Michael Chaves, who both worked with the late, great Leonard Cohen on his final You Want It Darker album, kicked off the film premiere with a musical performance that left the audience captivated. 
Following the musical intro, the festival's opening feature Amerika Square, was a powerful piece. Amerika Square actor Vassilis Koukalani said it "focuses on the center of Athens, and its current financial and social crisis, by following the parallel lives of three of its residents."
Films screened throughout the weekend, with Q&As with the filmmakers, industry discussion panels and receptions in the courtyard on opening and closing nights.
Closing night festivities included a Red Carpet, Courtyard reception, a live performance by comedy troupe Wet the Hippo and the annual Orpheus Awards, which recognizes the best of Greek cinema and pays tribute to individuals and organizations who've made significant contributions to the industry. 
Comedian, writer, actor and director Demetri Martin hosted closing night's Orpheus Awards. He kept the audience in tears with his commentary on Greek culture, history and social nuances while slurping noodles on stage during the Wet the Hippo performance. At the awards ceremony, new talent was recognized in various categories from jury-selected nominees to IPDF participants. Paramount Studios CEO Jim Gianopulos presented this year's honorary award to the notable director, producer and screenwriter Alexander Payne. 
Aside from introducing new talent and compelling stories, the LAGFF also serves as a bridge to generate cooperation and creative opportunities between Greece and the United States. The festival has an ongoing collaboration and internship program for students of Loyola Marymount University. LMU Professor Katerina Zacharia, who instituted and curates the LMU-LAGFF partnership, brings students every year for the opportunity to interact and gain practical experience in the industry.
The festival also hosted the International Project Discovery Forum (IPDF), which helps independent filmmakers through every stage of their project, from pitching their ideas for feedback to connecting them with investors, producers and distributors for completed films. 
The Los Angeles Greek Film Festival brings more than just entertainment. It educates, inspires and adds to the richness of Los Angeles' diverse entertainment landscape. 
For more information, please visit lagff.org.
Video Slider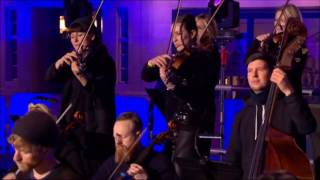 Win Tickets to See Pete Tong at Hollywood Bowl
Pete Tong is back in Los Angeles, and your chance to see him perform is at Hollywood Bowl on Thursday, Nov. 9. We are giving away complimentary tickets to the show. For a chance to enter to win, email us at info@lol-la.com with "Pete Tong" in the subject line and tell us why you would like to go.