Luis Alberto Aguilera Talks About His Legendary Father and Debut Single
Get to know singer-songwriter Luis Alberto Aguilera.
The release of Luis Alberto Aguilera's first single, "Incertidumbre," has gone viral online and on YouTube. We got a chance to sit down with him about the single, which will be a part of his first studio album due out in a few months.
Living Out Loud – Los Angeles: What does your visit to Los Angeles mean to you?
Luis Alberto Aguilera: Well, I'm feeling good about it, calm and excited to be working and presenting my new material. Pumped to move forward with it.
LOL-LA: Your career is now gaining momentum. How do you feel about the journey to get here?
LA: I'm filled with so much hope for what's ahead. The journey until now has been filled with lots of work, dedication, taking care of all the aspects of the music, the words, the musical arrangements, the mastering, taking care of every detail, which now I see has had many results and has given me confidence and calm. I hope everyone likes what's ahead and to keep at it with all my strength.
LOL-LA: Talk about why you picked "Incertidumbre" as your first single.
LA: The reason I selected this track as the first release is because we thought it represents a bit of the concept that is coming right after in the sense that we are going to mix parts of different music genres in a way that's cautious and careful in an organic way of doing it that brings these elements after integrating the electric guitars, accordion – all these organic elements that work together in a natural way. We thought this song was a representation of what's ahead. The mixes that follow might be ballads, but with the same concept to mix aspects of genres that sound good together.
LOL-LA: Speaking of the next releases, what can you tell us about them?
LA: We're putting the finishing touches on the album. We're taking our time to bring out the quality in the final product. All the songs on the album are written by me, and we're still working on the last details of the project, which we hope will be ready in a few months. We're focusing on the single for now and then looking ahead to what's coming.
LOL-LA: How would you describe your style and genre that you sing, and how does that stand apart from your father's [Juan Gabriel] musical style?
LA: I want to give people a real sense of what I'm made of. I'm really grateful to my father for the love of the public in accepting me, but the talent I inherited in composing music and everything I create is different. I want to give something real and show a bit of what I feel through the music, and this is my way of expressing it.
I'm very grateful for the the love and kindness that has been given to me from folks, and in this case, I think what's similar is just what I inherited, but the difference is in the style. His style is based on what he grew up hearing and composing, and what I do is what I like and compose.
LOL-LA: How do you feel impacted by the tremendous loss of your father?
That's still something I'm getting used to and precessing, but I'm trying to do the best I can and think the music is helping me to cope with a lot of these things that I've been going through and some of those things I'm moving on from to let go of things through the music so the people can understand a bit about how I feel inside.
LOL-LA: With the one-year anniversary of your father's passing, how do you plan on remembering him?
LA: I think about him everyday and remember him still. It's something that I haven't come to terms with just yet, and maybe eventually I can deal with the loss of a father, but I'm trying to do my best to move forward and do things I think he would like especially with my music. I'm learning from my errors, and the music has been a great support in this. This anniversary is affecting me deeply. It's painful, and I still don't know when these feelings will pass, but I think I'm focusing on what I can do.
LOL-LA: What do you think of the homages being made for your father? Do they have your blessing?
LA: I think all the homages to my father if they are sincere, of the heart and with good intentions— they have my blessing to do all the homages they wish whenever they want, every day if possible. I celebrate and think about my father and think about him every day. If this is how other folks want to express their love, I'm fine with it.
For more information, visit luisalbertoaguilera.com.
Sabina Ibarra contributed to this story.
Video Slider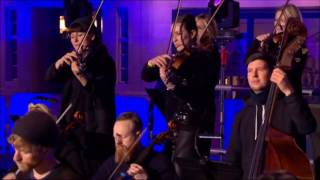 Win Tickets to See Pete Tong at Hollywood Bowl
Pete Tong is back in Los Angeles, and your chance to see him perform is at Hollywood Bowl on Thursday, Nov. 9. We are giving away complimentary tickets to the show. For a chance to enter to win, email us at info@lol-la.com with "Pete Tong" in the subject line and tell us why you would like to go.