Make a Small-Budget Film Look Like a Big-Budget Blockbuster with Media Toaster
Galen Walker, Producer and CEO of Media Toaster (Urbanite Media)
Filmmakers looking to save time and cut costs, without sacrificing quality, need to look no further. Media Toaster, a one-stop post-production studio, gives new and seasoned storytellers the keys to a high-quality, cost-effective workflow. By using Media Toaster's groundbreaking and proprietary technology, filmmakers across the globe can make a film that looks like a blockbuster without spending a blockbuster budget.
Traditional methods of 'post' can be a painful process, associated with long hours and high costs that seem to keep increasing. Trying to cut down on these costs would usually also result in a lower quality output.
But what if there was software that cuts your editing time in almost half, without sacrificing any of the quality you worked so hard to produce? Media Toaster has the answer.
Created by seasoned film and television veterans, the post-production studio guarantees to cut time and expenses by using a new quality-control process that includes their self-developed Quality Interactive File (QI File) and efficient Monster File workflow. It also provides the director access to experts and abundant resources that many other post houses lack.
Galen Walker, Producer and CEO of Media Toaster, and his team are excited about their new system and the multiple ways they are able to service content creators everywhere. The new technologies mean significant changes for the industry with Walker and crew at the forefront of the revolution.
Living Out Loud – Los Angeles: What is this new technology, and how does it work?
Galen Walker: 'QI File' allows the filmmaker or producer to 'see' the issues to correct in a working QuickTime format. Thus, they do not have to go back to an editorial suite or revisit masters. With the 'QI File,' the client can quickly make the right call for the corrections. Media Toaster has a full digital enhancement team in place to fix 95 percent of the video and audio problems demonstrated in the QI file. That makes it the most thorough and efficient way to get the issues resolved in the least amount of time.
LOL-LA: Aside from the QI File, you also created the Monster File for storing and delivering content in multiple formats. How does that work?
GW: The 'Monster File' can house the entire picture and sound content in multiple configurations for worldwide delivery, a process that is usually lengthy and costly. Your film/TV show is stored in our secure cloud server and is instantly ready for global delivery. We can deliver the content to any distributor, digitally, for the life of the property over multiple sales, as well as revamp the content at every re-sell.
LOL-LA: What else does Media Toaster offer content creators that set it apart from the rest?
GW: Here, clients have experts at their fingertips. Our multi-talented team has worked on everything from worldwide releases to independent award winners, and they are always on hand to provide the best solutions in all areas. Also, we have an incredible pool of resources that customers can pull from depending on their needs. Whether they need a composer, technical tools or producers, we have it all here.
It is important to us that the filmmakers are happy with their final product as well as the support they received while in our studio. We aim to make low-budget productions look and sound like a blockbuster. With our technology and available resources, we can help filmmakers everywhere achieve their vision, whether they are here in the United States or anywhere in the world.
LOL-LA: Who does Media Toaster's service, the independent filmmaker, the big networks, indie films and/or televisions shows?
GW: All of them! We complete full packages for many distribution agents and companies on a vast number of films. Our products can range from live action to animation, long and short form.
Since creating the QI File and Monster File, the tech-hub has teamed up with multiple big-name shows including FX's hit "Taboo," STARZ's action series "Black Sails" and AMC's much-anticipated "The Son." It is also working on indie features like the supernatural thriller Dead Awake, the '80s-based horror feature, 200 Hours, and Kevin Sorbo's, of Hercules fame, new film, Let There Be Light.
For more information, visit mediatoaster.com.  
Video Slider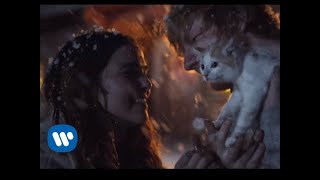 Win Tickets to See Ed Sheeran at the Rose Bowl
Ed Sheeran is back in Los Angeles, and your chance to see him perform is at the Rose Bowl in Pasadena on Saturday, Aug. 18. We are giving away complimentary tickets to the show. For a chance to enter to win, email us at info@lol-la.com with "Ed Sheeran" in the subject line and tell us why you would like to go.