Make Wolfgang's Steakhouse Your New Spring Favorite
You can't go wrong with the savory Porterhouse at Wolfgang's Steakhouse.
Dine like an A-list celebrity and treat yourself to a meal at the famous Wolfgang's Steakhouse in Beverly Hills. Favored by stars like Jessica Alba, Victoria Beckham and Jennifer Aniston, the luxury steakhouse has become a coveted location not only for its clientele but its delectable dishes.
Founded by Wolfgang Zwiener, who was once a head waiter at the nationally-acclaimed Peter Luger's Steakhouse, the eatery now has eight locations worldwide. The first opened in 2004 on NYC's Park Avenue.
While the food is the real star here, its atmosphere also leaves guests speechless. From its intimate ambiance to alabaster chandeliers, dining at Wolfgang's Steakhouse makes for an unforgettable moment.
You can't go wrong with the savory Porterhouse steak which is aged to perfection. Dry-aged onsite for an average of 28 days in the restaurant's own aging box, it's cooked in a 1,600-degree broiler for a flavorful and mouth-watering experience.
The 48 oz Porterhouse is legendary and will arrive at your table sizzling in butter, charred on the outside, medium rare at the center and already cut at the bone. Whether choosing from the lunch or dinner menu, your taste buds will fall in love with each bite.
If steak isn't your preference, Wolfgang's Steakhouse also offers fresh seafood. From appetizers like Canadian Bacon, Jumbo Shrimp Cocktail and Tuna Tartar and an impressive entree list which features filet mignon, Chilean Seabass, Grilled Wild Salmon and Jumbo Lobster (3 lb.) to list a few, everyone will leave full and satisfied.
Reservations can be made online at wolfgangssteakhouse.net or by phone at (310) 385-0640. For those interested in private rooms, they are available for booking. Likewise, hours are available online.
If you're curious to see the entire succulent section of meals before your visit, the lunch and dinner menus can be viewed online along with the bar and Canon Menu.
Wolfgang's Steakhouse is located at 443 N. Canon Drive, Beverly Hills 90210.
Video Slider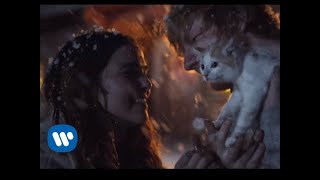 Win Tickets to See Ed Sheeran at the Rose Bowl
Ed Sheeran is back in Los Angeles, and your chance to see him perform is at the Rose Bowl in Pasadena on Saturday, Aug. 18. We are giving away complimentary tickets to the show. For a chance to enter to win, email us at info@lol-la.com with "Ed Sheeran" in the subject line and tell us why you would like to go.