Mandy Moore, Claire Holt and Others Discuss 47 Meters Down
Mandy Moore and Claire Holt in 47 Meters Down (Entertainment Studios)
According to Mandy Moore, 47 Meters Down wasn't meant to be released in theaters – only via DVD, On Demand and digitally. But now 47 Meters Down is playing in theaters nationwide, and there is much talk about how good the movie is.
"We were prepping for it to go out on DVD, and then we were told it was going to theaters," says Moore with a smile signaling relief and happiness.
47 Meters Down, directed by Johannes Roberts and filmed in London and the Dominican Republic, stars Moore, Claire Holt, Chris J. Johnson, Yani Gellman, Santiago Segura and Matthew Modine. This horror flick follows beautiful sisters Kate (Holt) and Lisa (Moore) as they travel to Mexico for what's supposed to be a vacation full of sun and fun, but Kate soon persuades Lisa into scuba diving in shark-infested waters. It doesn't go so well for them!
The cast says they liked the challenge of filming under water.
"Yeah, we liked being challenged," says Holt, the 29-year-old stunning Australian.
Asked if she got the feeling of anxiety when filming under water, Moore says, "100 percent, especially the first time. We had a limited amount of dive training … and the next day we were thrown into the middle of the ocean."
Moore says Holt is athletic and fearless, and it appeared she didn't have any real issues diving. "NO," says Holt in response, as Moore laughs. Moore goes onto say that filming underwater was "majestic."
"It was just such a foreign experience, I think," says Holt. "It's something I have never done before … and we did have to try to give a performance that was realistic and authentic."
"I would have loved to have gone underwater scuba diving," says the experienced Modine, who also notes he's been doing just that since the age of 15. Modine plays Captain Taylor, who is in charge of delivering the experience of shark diving.
Gellman shares a funny story. He didn't think he would get seasick during the shoots and refused to take the seasick-prevention tablets. Soon enough, he felt seasick and he only got better, health wise, as he dove underwater.
"So when that happens, you sort of pretend that you are not sick," says Gellman. "I'm not sure how those scenes will turn out."
And despite all of that and the challenges in filming on and under water, 47 Meters Down promises to please audiences.
47 Meters Down is now playing in theaters.
Video Slider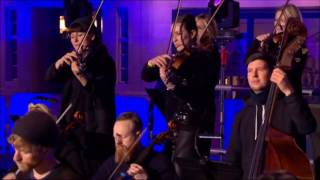 Win Tickets to See Pete Tong at Hollywood Bowl
Pete Tong is back in Los Angeles, and your chance to see him perform is at Hollywood Bowl on Thursday, Nov. 9. We are giving away complimentary tickets to the show. For a chance to enter to win, email us at info@lol-la.com with "Pete Tong" in the subject line and tell us why you would like to go.