Maria Bermudez Brings Flamenco Music and Dance from Spain to El Portal Theatre
Experience Sonidos Gitanos' "ConVivencia" at El Portal Nov. 18 and 19.
Living Out Loud – Los Angeles recently chatted with critically acclaimed choreographer, director and principal dancer Maria Bermudez in advance of her show at the El Portal Theatre in North Hollywood. For two nights only, she brings her internationally celebrated Sonidos Gitanos (Gypsy Sounds) to El Portal's Main Stage, featuring master musicians from Jerez de la Frontera, the "birthplace of Flamenco."
LOL-LA: How would you describe your evolution as an entertainer from day one to now?
Maria Bermudez: It's been quite a journey, and [I'm] still loving every bit of it. Not to say it's been easy, as I have chosen a profession that is quite challenging to study, to acquire the essence, the demanding technique that is so connected to a culture, not my own, has been a difficult one but extremely rewarding. When I first began performing flamenco, my perspective was that of many, the appeal was the obvious passion, mystery and just simply a beautiful art form. As I continued my studies, the perspective began to shift. I realized there was so much more to flamenco. I think my evolution has been exactly that, understanding all the layers to this very complex art form – understanding the gypsy culture, the 'cante' song forms and where the stories, verses of the singing, the meaning of all of this has helped make my personal performances richer and more heartfelt.
LOL-LA: What's been the secret to your success?
MB: Ultimately, loving what I do. I think choosing to go to the source, Andalucia, Spain, making the sacrifice of leaving behind family, friends and the 'comforts' of home to pursue my dream of becoming a flamenco dancer has paid off. Also, choosing this area of Andalucia, the deep south, is/was an unfamiliar 'sound' to the rest of the world, at least in the U.S.
LOL-LA: Your internationally successful Sonidos Gitanos is back in Los Angeles for two nights only. What makes Sonidos Gitanos so rich in its art form?
MB: My company, Sonidos Gitanos, was created in Jerez de la Frontera, known as the birthplace of flamenco. The artists of this region are born singing and dancing straight from the womb. The gypsy population here is grandiose. I like to use the analogy of the blues of the delta. Maybe not as popular as other blues areas but authentic to the hilt. This is the Jerez sound, not to mention the rhythm known as 'soniquete' unique to this community.
LOL-LA: Talk about your collaboration with Jerez de la Frontera and how fruitful that is.
MB: My collaboration with the artists of Jerez was not easy to come by. Many years of study and commitment to learning the roots of the art form were the culprits of my gaining the respect which then led to my working with them and taking it on the road. In Jerez, you walk down the streets and you hear singing from the apartments as the housewives cook the daily meals, you walk across the plazas and you see the children dancing flamenco, you can go to the local market where the vendors sell the local produce as if they were singing an aria. This region is where the first cry of flamenco was heard. I knew I was in the right place to explore and deepen my development as a dancer and artist.
LOL-LA: You have Pedro Córdoba as a special guest artist. What does he bring to the table?
MB: Pedro Cordoba is an artist of superb qualities. His technical abilities are jaw dropping but most important, to be able to convey emotion as well as what we expect to see in a male dancer are qualities we all aspire to. His rhythm, interpretation of the music and 'cante' song are astounding. Along with this, he so wonderful to work with! He is respected and beloved as a person as well as an artist, most important to me as artistic director because the magic happens when we are harmonious.
LOL-LA: Why should our readers and followers go see these shows Nov. 18-19?
MB: A company from the birthplace of flamenco doesn't come to the U.S. every day! In my vast experience, even audiences who have never seen flamenco before are blown away. Also, in this particular show I have incorporated five local talented dancers to the mix (hence the title of the show 'ConVivencia' means bringing together, community, a life lived), who I have been working with for the last few years, making for a show full of authenticity and celebrating diversity and  community, which is the ultimate definition of flamenco. In these challenging times we are living in full of political dismay, disharmony and chaos, please come and share an evening of joy music and dance, where we will transport you to a magical place, to a genuine "ConVivencia."
Sonidos Gitanos' "ConVivencia" is at the El Portal Theatre (5269 Lankershim Blvd., North Hollywood) Nov. 18 and 19. For tickets and more information, visit elportaltheatre.com/flamenco.html.
Marvin Vasquez contributed to this story.
Video Slider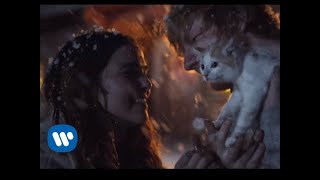 Win Tickets to See Ed Sheeran at the Rose Bowl
Ed Sheeran is back in Los Angeles, and your chance to see him perform is at the Rose Bowl in Pasadena on Saturday, Aug. 18. We are giving away complimentary tickets to the show. For a chance to enter to win, email us at info@lol-la.com with "Ed Sheeran" in the subject line and tell us why you would like to go.