"MasterChef" Winner Claudia Sandoval Returns as Judge in New "MasterChef Latino"
Tune into "MasterChef Latino" to see Claudia Sandoval on the panel of judges.
Fans of cooking shows are in for a treat with a Latin-American twist starting this weekend with the debut of  "MasterChef Latino." Known for being the most popular cooking competition, "MasterChef" also gave audiences the equally addictive "MasterChef Junior" and now gives the gift of "MasterChef Latino" on Telemundo.
Starting this Sunday, Jan. 14, viewers will watch as cooking amateurs compete and show off their skills in the kitchen for a chance to win a grand cash prize of $100,000. Hosted by Mexican actress and singer, Aracely Arambula, the contestants will be judged by a panel of three experienced culinary chefs. The experts include, chefs Benito Molina, Claudia Sandoval and Ennio Carota.
Molina has worked in renowned restaurants in Europe, Latin America and the U.S. He's also received prestigious culinary awards and is recognized as one of Mexico's best chefs. Additionally, he owns Manzanilla, the first Mexican restaurant in Baja, Calif. Carota has traveled the world as a chef, entrepreneur and TV host. No stranger to the series, Carota was a judge for three seasons of "MasterChef" and "Masterchef Junior" in Chile.
As for Sandoval, she's the winner of the sixth season of "MasterChef" and has since published her bestseller, Claudia's Kitchen: A Taste of Mexico, in 2016 and began a culinary consulting and catering business under the name Claudia's Kitchen. When speaking of her time on the show as a contestant, Sandoval explains that one of the biggest things she gained from it was hope.
"It completely changed my life," the chef says. "I had very little hope, and I was kind of in a deep dark place. It gave me an opportunity for a better life."
Having made the sacrifice to leave everything behind for three months (including her daughter) while filming as a contestant, Sandoval knows exactly how the cooks on the season of "MasterChef Latino" feel. While it was difficult to be away for so long, she recalls having nothing in her savings account and sharing a one-bedroom apartment while having only one bed for herself and her daughter.
As for what pushed her to make the jump? Taking risks, she says.
"What if I hadn't done that? My life wouldn't be what it is now. Have the courage to say 'Hell yeah, I can do this, I'm going to try and make sure it happens.'"
The season will feature 13 episodes and Sandoval describes the contestants as "incredible human beings."
"These are people who have truly dropped everything to be there," she explains. "It's a huge sacrifice to leave behind your family and job to put everything on the line."
From a gardener to a fireman to a graphic designer, these amateur cooks took a risk to accomplish their dream.
As a judge, Sandoval says the progress of the contestants reflects on the judges.
"If these contestants don't grow through the competition, if they don't become a professional, we didn't do our job."
Of course, the chef's favorite part of the show is the diversity of cultures and food shown throughout the series.
"I love the fact that you're going to see Cuba, Peru, Venezuela and more cultures. We're bringing reality back to reality television," she says. "I hope the show will be something that will be very unifying."
Make sure to tune in every Sunday night to Telemundo to catch a glimpse of the wonderful dishes and intensity that is "MasterChef Latino."
Marvin Vasquez contributed to this story.
Video Slider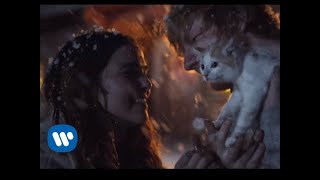 Win Tickets to See Ed Sheeran at the Rose Bowl
Ed Sheeran is back in Los Angeles, and your chance to see him perform is at the Rose Bowl in Pasadena on Saturday, Aug. 18. We are giving away complimentary tickets to the show. For a chance to enter to win, email us at info@lol-la.com with "Ed Sheeran" in the subject line and tell us why you would like to go.