Melt Cares and Calories Away at SaunaBar
SaunaBar's Infrared SaunaPods are a must-try experience.
Do you know a single person, male or female, who doesn't love an afternoon at the spa? What could be better for your mind, body and soul than relaxing while getting a massage or sitting in a sauna? Actually burning fat while receiving treatments! Angelenos can do exactly that at SaunaBar in Brentwood.
When you spend time at SaunaBar, you not only let go of your daily worries, you lose weight and release toxins. The holistic healing center, founded by CEO Joseph Harounian, marries Eastern philosophies with Western science and technology in their Transformation Weight Loss Program.
I recently visited SaunaBar, located on the second floor of Brentwood Gardens to try out one of the central, cutting-edge technology treatments essential to their program, the Infrared SaunaPod. Upon stepping into the chic, mostly white yet inviting environment, I was instantly greeted by Harounian and Timothy Waterman, SaunaBar's Customer Relations Manager and a Certified Personal Trainer.
After filling out a short questionnaire, Waterman led me towards the back of the center. We passed another piece of machinery used in SaunaBar's program, the Magnesphere, which utilizes electromagnetic fields to help you relax, alleviates aches and pains, and treats problems with focusing and insomnia. I also spied their Whole Body Vibration equipment that is used to tone and firm the body.
A warm, orange glow enveloped me as I entered the room where two SaunaPods sat side by side. Waterman graciously guided me through the entire process, showing me how to get in, use simple controls to turn the heat up or down as needed and how to exit the pod if necessary. And with that, I reclined onto the pod's bed lined with 440 activated jade crystals and basked in the heat – 50 degrees Celsius (122 degrees Fahrenheit) to be exact.
That's hot, but the 40-minute session was not uncomfortable at all. Serene sounds of the ocean flowed from the speakers, and I would have fallen to sleep if I wasn't smiling so much, thinking about the 600 calories I was burning while laying in the SaunaPod. At about the 20-minute mark, I could feel some moisture on my legs and back, as well as beads of sweat start to form on my face, which thankfully was not enclosed in the pod at all since I tend to be a little claustrophobic. All the stiffness and pain in my joints and muscles just seemed to melt away as each minute ticked by.
When I had confirmed my appointment online, SaunaBar let me know to bring shorts and a comfy T-shirt to wear in the pod, but I wish they would have reminded me to bring a water bottle (They do sell water at the front desk, though.). However, the entire experience was simply rejuvenating. I felt totally cleansed physically, mentally and spiritually as I walked out of the room. Waterman even remarked that I was glowing.
I would definitely like to return to experience another component of SaunaBar's program, Lymphatic Compression Massage. You can opt for single sessions of the Infrared SaunaPod, Magnesphere or Lymphatic Compression Massage or experience them all through the Transformation Weight Loss Program, which also includes a Fitness Nutrition Consultation, hCG Wight Loss Program, Whole Body Vibration Efficiency Training and InBody Composition Analysis.
Pricing is as follows: $70 for a single session, 10 sessions for $590 or 20 sessions for $1,100. They also offer three levels of memberships: Refresh where you can mix and match eight sessions of the Infrared SaunaPod, lymphatic massage or Magnesphere for $240; Rejuvenate where you can mix and match 12 sessions for $295; or Radiate where you can mix and match 16 sessions for $395.
SaunaBar is located at 11677 San Vicente Blvd., #208, Los Angeles 90049. For more information, call (310) 652-5522 or visit saunabar.com.
Video Slider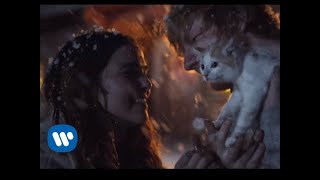 Win Tickets to See Ed Sheeran at the Rose Bowl
Ed Sheeran is back in Los Angeles, and your chance to see him perform is at the Rose Bowl in Pasadena on Saturday, Aug. 18. We are giving away complimentary tickets to the show. For a chance to enter to win, email us at info@lol-la.com with "Ed Sheeran" in the subject line and tell us why you would like to go.