Michael Keaton on Going All In for His Role in American Assassin
Michael Keaton as Stan Hurley in American Assassin (Christian Black)
Michael Keaton is not above admitting that he might have done American Assassin for the money.
"Did I get dollar signs in my eyes, like in cartoons? Kind of," the actor jokes about his role in the film, which is an adaptation of the first in a series of books by the late Vince Flynn about the counter-terrorist agent Mitch Rapp, played in the film by Dylan O'Brien of The Maze Runner.
In the film, Keaton plays Stan Hurley, a veteran CIA agent who trains Rapp to be a special agent and engages in some extreme interrogation methods, including threatening to light a captured scientist, clothed only in underwear, in the trunk of his car.
"I was happy not to be the guy in his underwear in this scene," Keaton says, in reference to his character in Birdman, who runs through Times Square wearing only briefs. "But I'm good being in my underwear. I'm actually good being out of my underwear."
Since his Oscar-nominated role in the Best Picture winner three years ago, Keaton has had a remarkable career resurgence that included roles in Spotlight, The Founder and the villain in Spider-Man: Homecoming.

Keaton is an outspoken liberal, and yet his role in American Assassin is one that reads as conservative, even if Stan Hurley doesn't make any overt political statements. The inherent right-wing nature of the character at first gave the actor pause and brought out some of his less ideological qualities.
"It was a concern, because although I was pleased with the result, I was nervous about how the film leaned. I'm actually not one thing or another, like most people, and in terms of the issue of terrorism, I am somewhat of a hard-liner, so I was okay with the message of the books and the movie. One of our main concerns was that it didn't portray the terrorist issue in a simplistic, black-and-white way, and that we didn't go down a traditional, stupid path of saying that people from this part of the world are that way. To the filmmakers' credit, they created nuance."
In order to play Hurley, Keaton wholeheartedly embraced some of the more outrageous aspects of the character, which included scenes of both him inflicting torture on suspected terrorists and suffering torture at the hands of them in return.
"The agreement that I made was that we wouldn't' pull back. I'm a firm believer that if you play a person, you shouldn't just buy into the idea that they're really kind of lovable underneath it all. You work within the framework of what the picture is trying to accomplish, and while there was a lot about Stan Hurley that I like and a lot that I agree with, I still had to play scenes like the trunk scene and commit totally to what the character was doing."
Despite having so little in common with his American Assassin character, Keaton committed to his portrayal despite the various reservations he had about the character.
"Once you sign on to this type of movie, you have to be all in. It's foolish of an actor to try to pretend to make your own movie. Things became really simple for me, seeing the character's function and the type of movie that they were making.
For Keaton, finding that complexity within his character was the key to portraying Hurley and differentiating him from his recent run of quasi-villainous roles.
"I'm not a believer in just playing somebody who is, to be simplistic, the bad guy, like Ray Kroc," referencing his recent role in The Founder as the man behind McDonald's, "which you should have seen, because it's awesome."
American Assassin is in theaters Sept. 15.
Video Slider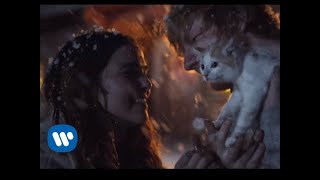 Win Tickets to See Ed Sheeran at the Rose Bowl
Ed Sheeran is back in Los Angeles, and your chance to see him perform is at the Rose Bowl in Pasadena on Saturday, Aug. 18. We are giving away complimentary tickets to the show. For a chance to enter to win, email us at info@lol-la.com with "Ed Sheeran" in the subject line and tell us why you would like to go.