Morrissey Announces L.A. New Year's Eve Show
Ring in 2016 with Morrissey at the Galen Center at USC.
Last month when Morrissey announced on his fan site True To You that his two recent UK shows would likely be his final ones after 28 years of performing there due to lack of record label interest in the United Kingdom, the shockwaves of his words were felt almost immediately here in the states.
In 2014, Morrissey's relationship with Los Angeles-based Harvest Records took a nosedive, when the former Smiths frontman claimed the label poorly promoted his latest album, World Peace Is None of Your Business. As Moz fans stateside read the news that their hero would no longer be playing in his home country, the question began to rise: How long before "Goodbye Will Be Farewell" for us here in America?
But this Los Angeles, and the love affair between Morrissey and the city is one that has always flourished with larger-than-life events and amazing sets from the Manchester native. Topping his recent visit in August as part of FYF Fest, Morrissey just announced a special L.A. New Year's Eve performance at USC's Galen Center.
Tickets are already on sale at axs.com/events/296165/morrissey-tickets, and prices range from $39.50 to $129.50, which, if you are a true Moz fan, means absolutely nothing to you since there is no ticket price high enough to keep you away from your most "Charming Man."
Although Morrissey has also announced additional shows on Dec. 29 in San Francisco and Jan. 2 in Las Vegas, the City of Angeles gets to be the one to ring in 2016 with the iconic musician.
Although every time Morrissey announces a U.S. run of dates, crowds are expected to turn out in droves, there is something truly special about his return to the states so soon after announcing his "retirement" from playing in his homeland. You can guarantee that this event will sell out, and with tickets being sold for as low as $40 (plus fees), fans from across the Southland and the state will be flocking to South Los Angeles to experience this once-in-a-lifetime event.
What will the future bring (or not bring) for us here as Morrissey continues to struggle to find label interest? No one can really say.
But to be able to experience our favorite singer in the city we love on a day where we begin an exciting new year, it's pretty safe to say that no matter where life takes Morrissey, in his own strange way, he will always be true to Los Angeles.
Video Slider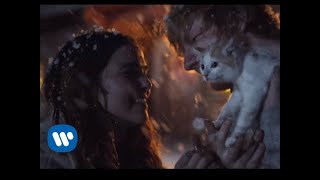 Win Tickets to See Ed Sheeran at the Rose Bowl
Ed Sheeran is back in Los Angeles, and your chance to see him perform is at the Rose Bowl in Pasadena on Saturday, Aug. 18. We are giving away complimentary tickets to the show. For a chance to enter to win, email us at info@lol-la.com with "Ed Sheeran" in the subject line and tell us why you would like to go.