Moscow Ballet's "Great Russian Nutcracker" Comes to the Wiltern
Don't miss Moscow Ballet's "Great Russian Nutcracker" at the Wiltern.
In celebration of its 25th year touring across North America, Moscow Ballet graces the stage of the Wiltern with a mesmerizing performance that is guaranteed to capture the hearts of all in attendance. On Friday, Dec. 15 and Saturday, Dec. 16, the stage is to be covered in the most beautiful and intricate scenery to tell the beloved and world-famous tale of Tchaikovsky's 1982 Russian Ballet, "The Nutcracker."
The setting of the Wiltern could not be more perfect to host the lovely and talented dancers, one of which is dancer, Anastasiya Hnatysyhn. While growing up in the Ukraine, Hnatysyhn asked her mother to enroll her in ballet classes after seeing "Swan Lake" on television and falling in love with everything from the choreography to the costumes.
At the age of 7, she decided ballet was going to be her everything.
"When my teacher asked me what I wanted to be, I always said I was going to be a ballet dancer. There was nothing else," Hnatysyhn says.
The ballerina and audition director graduated and received a degree as a choreographer and as an elementary school teacher from the Kharkov Academy of Culture. Before graduating, she was invited to perform at Lviv National Opera and Ballet Theater.
The Moscow Ballet has a "Dance with Us" program for local children that allows kids from ages 7 to 17 (who have at least one year of ballet training) to audition and get a role for the once-in-a-lifetime chance to perform alongside the Russian company.
Due to her 14 years as a professional dancer, Hnatysyhn says she enjoys helping the child dancers who work alongside her.
"They are a little shy at first," she says. "But then they conquer the stage."
The young dancers play the roles of party children, mice, snowflakes and snow maidens, Spanish, Russian, Chinese and French variations.
Featuring award-winning principal dancers and a company of 40 corps de ballet, the whimsical and magical backdrop also displays life-sized Matrushka/Nesting Dolls, which magically reveal dancing Moor Dolls.
With set design, props and costumes coming from Russia, the Snow Forest scene features the Russian Troika Sleigh, escorted by Father Xmas and Snow Maiden. The Moscow Ballet exclusively performs "Land of Peace and Harmony" instead of the Land of Sweets and "Dove of Peace," which features dancers with wings that are 20-feet long.
As for the backdrops, they're hand painted and designed by La La Land concept designer, Carl Sprague. Everything about the ballet is perfection, down to the 200 hand-sewn, glittering costumes.
For Hnatysyhn, she says being able to work for the Moscow Ballet is a great opportunity, as the company is incredibly attentive to all of their performers' needs and concerns. To see Hnatysyhn and the rest of the dancers, come by the Wiltern and enjoy a magnificent night.
Tickets are available at nutcracker.com, and show times are Dec. 15 at 7 p.m. and Dec. 16 at 1 p.m. and 5 p.m.
Marvin Vasquez and David Melgoza contributed to this story.
Video Slider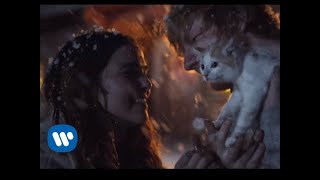 Win Tickets to See Ed Sheeran at the Rose Bowl
Ed Sheeran is back in Los Angeles, and your chance to see him perform is at the Rose Bowl in Pasadena on Saturday, Aug. 18. We are giving away complimentary tickets to the show. For a chance to enter to win, email us at info@lol-la.com with "Ed Sheeran" in the subject line and tell us why you would like to go.