Oscar Winner Predictions
Sebastian (Ryan Gosling) and Mia (Emma Stone) in La La Land (Dale Robinette)
The Academy Awards will be given out on Sunday, Feb. 26 during a four-hour ceremony, three hours of which will be taken by the In Memoriam segment. Justin Timberlake will sing and mug for the camera at every opportunity, Jimmy Kimmel will make at least a half dozen Matt Damon jokes before the first commercial break, and Donald Trump will tweet furiously about at least one winner's speech. In other news, some people will go home with gold statues.
Here are the projected winners for this year's Oscars.
Best Picture
Arrival
Fences
Hacksaw Ridge
Hell or High Water
Hidden Figures
La La Land
Lion
Manchester by the Sea
Moonlight
For the next month, pundits will be wondering whether it's possible that a La La Land backlash could emerge, allowing Moonlight to win. These are the Oscar versions of alternative facts and can be given as much credence as anything Kellyanne Conway says. La La Land hits every single sweet spot that academy voters like. It's original, it's a massive surprise hit, it spotlights two popular stars at their peak, and it's in love with Hollywood and cinematic history.
Best Director
Damien Chazelle, La La Land
Mel Gibson, Hacksaw Ridge
Barry Jenkins, Moonlight
Kenneth Lonergan, Manchester by the Sea
Denis Villeneuve, Arrival
When you helm a film that ties the record for most Oscar nominations and earns those nominations in nearly every available technical category, you're virtually assured a Best Director win. Damien Chazelle is the first person to shut down an L.A. freeway and not be despised for it, which deserves an award in and of itself.
Best Actor
Casey Affleck, Manchester by the Sea
Andrew Garfield, Hacksaw Ridge
Ryan Gosling, La La Land
Viggo Mortensen, Captain Fantastic
Denzel Washington, Fences
Casey Affleck will win an Oscar as a way to reward Manchester by the Sea, but his win isn't quite as assured as some people expect. Affleck has not exactly charmed the media during his campaign, and giving him an award despite the sexual harassment charges against him years ago seems unpleasant to many. If his main competition hadn't already won two Oscars, Affleck might have a more difficult time, but these things matter, as does having a well-liked brother and his even more beloved best friend who both happen to be Hollywood heavyweights in your corner.
Best Actress
Isabelle Huppert, Elle
Ruth Negga, Loving
Natalie Portman, Jackie
Emma Stone, La La Land
Meryl Streep, Florence Foster Jenkins
Isabelle Huppert swept the critics awards, but she has so many monumental strikes against her that it seems unlikely for her to win. Academy voters rarely choose divisive films, foreign language performers, actors without strong Hollywood ties and, most important, women over a certain age. They certainly don't choose those when they have a previously-nominated, well-liked star in her late 20s with a nice track record at the Oscars who happens to star in the overwhelming Best Picture favorite.
Best Supporting Actor
Mahershala Ali, Moonlight
Jeff Bridges, Hell or High Water
Lucas Hedges, Manchester by the Sea
Dev Patel, Lion
Michael Shannon, Nocturnal Animals
Mahershala Ali also swept the critics awards like Huppert, but unlike the French legend, Ali stars in the presumed runner-up in the Best Picture race. There are reasons to doubt Ali – his role is only in the first third of the film, and his performance isn't quite the overwhelming standout in the Moonlight cast – but without a reasonable alternative (Dev Patel probably comes closest, since Lion over performed.), awarding Ali makes the most sense.
Best Supporting Actress
Viola Davis, Fences
Naomie Harris, Moonlight
Nicole Kidman, Lion
Octavia Spencer, Hidden Figures
Michelle Williams, Manchester by the Sea
Sometimes an Oscar can be engraved once a performer signs up for a particular movie. Anne Hathaway in Les Miserables and Leonardo DiCaprio in The Revenant come to mind: right actor, right role, right time. Viola Davis won the Oscar when she agreed to do Fences, and none of the other four nominees need to bother even showing up for the ceremony.
Best Original Screenplay
20th Century Women (Mike Mills)
Hell or High Water (Taylor Sheridan)
La La Land (Damien Chazelle)
The Lobster (Yorgos Lanthimos, Efthymis Filippou)
Manchester by the Sea (Kenneth Lonergan)
This is probably the toughest major race to call, since Manchester by the Sea seems to be an achievement more centered around its screenplay than La La Land, which feels a bit slighter. Additionally, musicals fare poorly in screenplay categories, usually missing nominations altogether (and even the nominated screenplay for Chicago lost). But La La Land is a different beast: It's an original story, it isn't that heavy on songs, and when a film is poised to sweep, it usually wins close races. The Golden Globe for its screenplay was a sign that should not be ignored.
Best Adapted Screenplay
Arrival (Eric Heisserer)
Fences (August Wilson)
Hidden Figures (Allison Schroeder, Theodore Melfi)
Lion (Luke Davies)
Moonlight (Barry Jenkins, Tarell Alvin McCraney)
This category is as easy to predict as its counterpart is hard. Awarding Moonlight gives Barry Jenkins a consolation prize for losing Best Director, and the category is free of La La Land. The field is open.
Best Animated Feature
Kubo and the Two Strings
Moana
My Life as a Zucchini
The Red Turtle
Zootopia
Zootopia was a massive hit, appealed to adult audiences, and had surprisingly weighty themes for a cartoon. Without a Pixar movie in the mix, Zootopia seems assured for a win.
Best Foreign Language Film
Land of Mine
A Man Called Ove
Toni Erdmann
The Salesman
Tanna
Toni Erdmann is a three-hour German comedy. Let that description sink in, for these are not descriptions that belong together in any form. And yet it seems to be the most acclaimed of the bunch, so without a Son of Saul or Amour-style lock for the category, Germany appears good for the win.
The Techs
It hardly requires much discussion in a sweep year like this one. Cinematography, Film Editing, Production Design and Sound Editing should all go to La La Land, as will the music categories Original Score and Original Song (for "City of Stars" over "Audition"), but the film will lose in two of its tech categories. Costume Design should go to the more elaborate costumes from Florence Foster Jenkins, and war movies always do well in Sound Mixing, so Hacksaw Ridge should prevail there (and it will get Kevin O'Connell his first Oscar in 19 nominations).
In the categories where La La Land does not appear, Visual Effects should go to The Jungle Book and Hairstyling and Makeup should go to the elaborate prosthetics of Star Trek: Beyond.
Documentaries and Shorts
These are the categories that will determine whether you win your Oscar pool, because no one will applaud you for getting Viola Davis right; that just means you're sentient. Unless the fact that it's actually a television show causes voters to look elsewhere, Best Documentary Feature will go to O.J.: Made in America, and it seems such an overwhelming favorite that Oscar producers may capitalize on last year's O.J. mania by having "The People Vs. O.J. Simpson: American Crime Story" stars Sarah Paulson and John Travolta present the award. After the Adele Dazeem disaster, the documentary nominees should prepare for their names to be butchered. Best Documentary Short should go to "Joe's Violin," which is about a 91-year-old Holocaust survivor, thus making it unbeatable. Best Animated Short should go to "Piper," because it's a Pixar film that was attached to Finding Dory and is light and cute, compared to the darker competition. And Best Live Action Short should go to Sing, since the short's "based on a true story about a children's choir" subject matter seems perfectly suited to appeal to Academy members.
Video Slider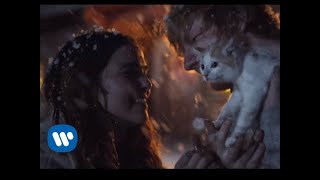 Win Tickets to See Ed Sheeran at the Rose Bowl
Ed Sheeran is back in Los Angeles, and your chance to see him perform is at the Rose Bowl in Pasadena on Saturday, Aug. 18. We are giving away complimentary tickets to the show. For a chance to enter to win, email us at info@lol-la.com with "Ed Sheeran" in the subject line and tell us why you would like to go.