Owen Wilson, Kerry Washington and Other Cast Members and Filmmakers Talk Cars 3
Owen Wilson reprises his voice role as Lightning McQueen in Cars 3.
In 2006, Pixar graced us with the first of three installments of the Cars franchise. Eleven years later, Cars 3 makes its worldwide release on June 16. Unlike the first two films, Cars 3 brings us back to the reality that everyone has an expiration date.
The legendary Lightning McQueen (Owen Wilson) takes an unexpected turn on his racing career as the new generation of high-tech racers pushes him out of the spotlight. To get back in the game, he'll need all the help he can get from his pals from Radiator Springs and from eager young race technician, Cruz Ramirez (Cristela Alonzo), to get back into the race.
The cast recently discussed the future of Lightning McQueen's career and how Cars 3 embodies women empowerment for young moviegoers.
Living Out Loud – Los Angeles: Why do you think the Cars world and Cars characters have resonated with moviegoers for over a decade now?
Owen Wilson: I think it's the animators. There's something human and inviting about the expressions that make the cars more relatable and lifelike to people. That's a big part of it and also the voice.
LOL-LA: What's your first memory of the Cars world, and why do you think it has stood the test of time?
Larry the Cable Guy: People can relate to the characters, first of all. It's just a fun movie with a lot of heart in it. As far as my character goes, I think a lot of people would like to have a neighbor like Mater. He's dependable, lovable, and he's sweet. He might not be the smartest fork in the knife drawer, but he's a faithful guy, and that's what everyone would like to have. It's just kind of cool to see the progression and seeing how the movies grow.
LOL-LA: In Cars 3, Lightning McQueen's career takes an unexpected turn, how does the next generation of racers impact McQueen?
Armie Hammer (Jackson Storm): It's definitely a change. He's part of this class of next generation racers that are faster, smarter and better looking.  At the same time, there's not the same heart in it, and there's not the same spirit and love in it. It's more of a technicality and more of a big paradigm shift in a world that so much of it is the love of the game.
LOL-LA: How does Cruz Ramirez jump in and help Lightning McQueen?
Cristela Alonzo: She's very good at what she does, but she still has doubts about herself regarding the same skill that she uses to coach the cars to become the best they can be. What I like about Cruz is that she's both relatable to boys and girls, and that you might have doubts about things of how you're going to pull something off. At the end of the day, you realize that the only way to do your best is to actually go for it and trust your instincts. It's something that we all struggle with sometimes.
LOL-LA:  How much discussion took place to get to the ending without giving it away?
Director Brian Fee: In true Pixar fashion, we tried everything you can possibly try. We made the movie many, many times ,and we were always inching towards the ending. It's part of the evolutionary process.
LOL-LA: What was the decision to bring back Paul Newman's voice as Doc Hudson?
Producer Kevin Reher: We were lucky that John Lasseter had ran on Cars 1 and kept the mic open and had all these wonderful things that we did transcriptions. The Newman film foundation was so terrific in supporting us and knew that we were trying to be as respectful as possible with Mr. Newman's performance.
LOL-LA: Cars 3 features some strong female characters, how is your character strong and why is that important?
Kerry Washington (Natalie Certain): I think it's fun to see women in film who are brave, smart and courageous, and also teachable women that balance having extraordinary talent and intellect but also are humble enough to learn the lessons that they have to learn at the end of the film.
LOL-LA: The story is very special, how does it resonate with you?
KW:  I had the treat of watching the film with my mother and daughter, which was really special to have three generations of women watching the film that is so much about empowerment beyond gender. It also resonated with all three of us, and it's an honor to be part of something that embraces everybody's heart.
BF: I want my daughters to never be afraid to try something because they think they're not going to be good at it. I never want to hear that certain things are for boys, and things are certain for girls. These are the moments we fight for and get on screen.
Cars 3 is in theaters June 16.
Video Slider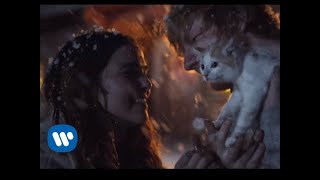 Win Tickets to See Ed Sheeran at the Rose Bowl
Ed Sheeran is back in Los Angeles, and your chance to see him perform is at the Rose Bowl in Pasadena on Saturday, Aug. 18. We are giving away complimentary tickets to the show. For a chance to enter to win, email us at info@lol-la.com with "Ed Sheeran" in the subject line and tell us why you would like to go.