Pacific Opera Project's Revival of "La Boheme: 'AKA The Hipsters'" Still Funny, Sad, Creative, Irreverent and Politically Incorrect
Don't miss POP's "La Boheme: 'AKA The Hipsters'" Dec. 15 and 16. (Martha Benedict)
Back in December of 2014, I was lucky to catch the first revival of Pacific Opera Project's (POP) version of opera "La Boheme" by Italian composer Giacomo Puccini to a libretto by Luigi Illica and Giuseppe Gicosa. This ia one of the most famous and produced operas in the world since its debut on February 1, 1896 at the Teatro Regio in Turin, Italy. Little did I know then, that this was not going to be anywhere near a "traditional" take on this warhorse classic. Fast forward three years later, and I'm back enjoying this updated, cabaret-style seating production that was just as enjoyable as the first time.
In a nutshell, the story revolves around a group of young bohemians living an artistic lifestyle of scarcity, passion, full of love and in this case ending in tragedy. Unlike the original setting of Paris, France during the late 1800s, this production takes place in present-day Los Angeles, specifically the working-class neighborhood of Highland Park, where alas, is the location of the historic the Ebell Club of Highland Park (built in 1912) where the performances are held. The characters are part of what we know today as "hipsters," which by definition are "a sub-culture of individuals in their 20s and 30s that value independent thinking, counter-culture and appreciation of art, creativity, intelligent and witty banter."
We first meet the guys: screenwriter Rodolfo (tenor Dane Suarez), graphic designer Marcello (baritone Alex DeSocio), Colline (bass-baritone Keith Colclough) who has a PhD in English Literature and rock musician Schaunard (baritone E. Scott Levin). They all share a run-down apartment owned by landlord Benoit (tenor William Grundler) who has come by to collect the rent, but ends up forgetting his task and is escorted out the door as the guys schmooze him up with liquor while keeping the money. Grundler is a truly versatile comedic actor, as he takes on not just this role, but subsequent appearances as Alcidoro and Parpignol later in the story.
After getting the upper hand on their landlord, the motley crew decides to celebrate at the local watering hole, except for Rodolfo who wants to finish a script. Enter Mimi (soprano Daria Somers), the frail, fashion designer neighbor next door, who is looking for help as she has lost power in her apartment. Sparks fly between these two as they sing the beautiful duet "O soave fanciulla/Oh lovely girl" which is one of the most famous arias in opera.
Reprising her role from the 2014 production, Somers is as radiant, beautiful and powerful in her vocal projection as I remember. Her timbre was lush, the notes were high and pure, while the detail in her acting was memorable. As her love interest, Suarez possesses a rich, warm tenor voice with ample texture and projection in the most dramatic instances, while his acting, although adequate, could have used more dimension. No sooner do they express their love for each other than they are out the door in order to give the great news to the rest of the gang hanging out in the local café.
One of the great aspects of using a small, intimate, flexible venue such as the the Ebell Club is the opportunity for a director such as Josh Shaw (also one of the three founding members of POP) to use multiple, creative ways in which to move the cast around. In the beginning of the second act, most of the singers approach the stage from the rear of the space, via the center of the tables as well as one of the side aisles to great effect, physically immersing the audience further into the story.
Another alumni from the previous production is the talented, sexy and alluring Musetta (soprano Katherine Giaquinto Powers), who gets to sing one of the most beautiful arias in all of opera, "Musetta's waltz: Quando me'n vo'/When I go along" as a way of getting attention from the love of her life, Marcello. She wants to makes him jealous by bringing her latest conquest and sugar daddy, Alcindoro, to the café while singing how everyone stares at her as she walks along the boulevard, in this case Figueroa Boulevard. Not only does Powers possess a gorgeous voice, but her physical, comedic timing and detailed acting were some of the highlights of the evening's performance.
When I read that the role of Marcello was to be played by newcomer DeSocio, my first reaction was of disappointment that it would not be baritone Ryan Thorne, whom I adored in the past production. This feeling melted away as the powerful, expressive voice of DeSocio took hold of my senses and delighted my ears as he shined with his outstanding performance of the man-bun wearing Marcello.
Rounding out the returning cast were the always delightful E. Scott Levin, who you might label as a character actor/singer that possesses a full-throated baritone voice and unparalleled comic ability along with Colclough, who moved the audience to tears with the aria "Vecchia zimarra/Old coat" as he headed to the pawn shop in order to get some cash in order to help out the dying Mimi.
The production was accompanied admirably by music director Parisa Zaeri on solo piano providing great musical support even while behind a sheer screen, allowing the voices to take center stage, literally. The costumes by Maggie Green were spot on for the hipster look, while some of Shaw's updated set design and props included a mural of a Donald Trump caricature with flying pigs that Marcello would be painting on in Act 3 and the substitute of a "pussy hat" for Mimi's famous bonnet gift from Rodolfo in Act 2. Not to be outdone was his irreverent, loose translation of the libretto, sprinkled with current lingo and political/cultural climate nods that had me on the floor laughing with references to Harvey Weinstein, Kevin Spacey and Jared Kushner among others – just another night at a POP opera.
"La Boheme: AKA 'The Hipsters'" runs Dec. 15 and 16 at 8 p.m. at the Ebell Club of Highland Park (131 S. Ave. 57, Los Angeles 90042). For tickets and more information, visit pacificoperaproject.com/labohemeakathehipsters.
Video Slider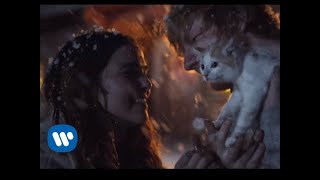 Win Tickets to See Ed Sheeran at the Rose Bowl
Ed Sheeran is back in Los Angeles, and your chance to see him perform is at the Rose Bowl in Pasadena on Saturday, Aug. 18. We are giving away complimentary tickets to the show. For a chance to enter to win, email us at info@lol-la.com with "Ed Sheeran" in the subject line and tell us why you would like to go.