Paul E. Amori and the Vote 4 Love Campaign
Mayor candidate Paul E. Amori (Courtesy Photo)
Paul E. Amori is one of 11 Los Angeles Mayoral candidates; he has no political experience.
Nevertheless, his Vote 4 Love campaign aims to capture everyone's vote, as he faces off against Mayor Eric Garcetti (who is up for re-election) and others.
"I am running for Mayor of Los Angeles because I believe it is time for something new, time for a new paradigm in politics, really," says Amori. "And that is 'Heart First' politics. The core value behind my idea is love."
Amori believes that the past and current regimes have not done much for the residents of Los Angeles.
"As a result, we see a city with terrible homelessness, awful cost of living and housing shortage and politicians do not seem to be out there looking for solutions to these problems. The problems are only getting worse," he says.
According to Amori, these issues have worsen the last four years.
"The politicians are not looking out for the best interest of the people," says Amori, who is a rather eloquent individual.
Overall, Amori's message is about love and respect, both very positive themes. Just see the video below for an exclusive look:
According to his Vote4Love.com campaign website, Amori is "…founder of the Love Party and three-time Mayor of the Lightning In A Bottle festival, is running for Mayor of Los Angeles to spread love over our fair city."
Those are not necessarily prime experiences for a candidate, but Amori is certainly looking to omit that. He financed his own political campaign and he does not regret it. "It's hard, but I did it," he says.
The website also states, "The Vote 4 Love Campaign is also committed to dramatically raising the bar on voter turn out. With less than 20% of registered voters expected to turn out for LA's 2017 mayoral election we can't help but wonder, why aren't people feeling the love. The answer, we believe, is that the good citizens of our fair city do not feel heard or empowered, in turn they don't feel connected to the politicians who are supposed to be representing them. The Vote 4 Love Campaign will put the people first by digging deep into communities all across Los Angeles to find out what issues are most important to them and what they want from their elected officials. We hope that citizens will not just vote 4 love, but also love their vote by casting their ballots on March 7th."
"I am trying to educate people and I want to be a voice for change," Amori says. "We need to ensure that whoever is next Mayor of Los Angeles, their number one focus should always be the people, that's what I bring."
Elections take place on March 7th.
Video Slider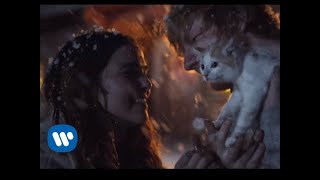 Win Tickets to See Ed Sheeran at the Rose Bowl
Ed Sheeran is back in Los Angeles, and your chance to see him perform is at the Rose Bowl in Pasadena on Saturday, Aug. 18. We are giving away complimentary tickets to the show. For a chance to enter to win, email us at info@lol-la.com with "Ed Sheeran" in the subject line and tell us why you would like to go.