Peace and Awareness in Los Angeles, Thanks to an Italian Immigrant Wine Maker
One of the most beautiful and tranquil places is Los Angeles can be found smack in the middle of the city on 3500 West Adams Boulevard, just west of Arlington Avenue. The Peace Awareness Labyrinth & Gardens (PAL&G) are housed in the estate of the late Secundo Guasti (1859–1927) who was an Italian immigrant from Asti, Italy. This is the area that gave us the bubbly Asti Spumante, which is the Italian version of champagne.
Guasti arrived in Los Angeles in 1878, and he began to work as a cook in a local Italian restaurant. Back in Italy Guasti had worked as a farm laborer, so after he married the restaurant owner's daughter he started his career in the wine industry. In 1901 he and his wife purchased about 5,000 acres in South Cucamonga where they built one of the largest wineries in California at the time.
Between 1910-1914, the Guastis built an elegant Italian Renaissance style mansion and gardens near the historical West Adams district which currently houses PAL&G. The mansion was declared an L.A. Cultural Heritage Monument in 1990.
The estate currently houses a series of beautiful fountains and meditation gardens that are open to the public as a day retreat. The property is currently owned by the Church of the Movement of Spiritual Inner Awareness (MSIA) and Peace Theological Seminary & College of Philosophy.
"MSIA is a non-denominational, ecumenical church founded by John-Roger in 1968. The main teaching is Soul Transcendence – knowing ourselves as a Soul and as one with God, not just in theory, but as a living reality."
One of the highlights of the gardens is the hand-cut Travertine Durango marble labyrinth which was designed similar to one in Chartres Cathedral in France (circa 1220). It measures about 40 feet in diameter and the traveling path you follow is about 1/3 of a mile. Labyrinths have a long history as part of mystical and religious traditions for meditation and enlightenment.
Next time you need to get away from the stressful pace of the City of Angels and/or are taking the dreaded Santa Monica freeway in bumper-to-bumper traffic, remember the oasis that lies less than half a mile south of the 10 on West Washington Boulevard. The Peace Awareness Labyrinth & Gardens is a place where you can escape and recharge as you walk amongst nature filling yourself with positive energy.
For more information, visit peacelabyrinth.org.
Video Slider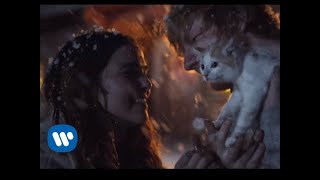 Win Tickets to See Ed Sheeran at the Rose Bowl
Ed Sheeran is back in Los Angeles, and your chance to see him perform is at the Rose Bowl in Pasadena on Saturday, Aug. 18. We are giving away complimentary tickets to the show. For a chance to enter to win, email us at info@lol-la.com with "Ed Sheeran" in the subject line and tell us why you would like to go.