Plaza De La Raza Presents Antonio Pelayo Retrospective Exhibition
La Sonora Dinamita (Courtesy Photo)
Plaza De La Raza has announced its upcoming Antonio Pelayo Retrospective Exhibition hosted by Patricia Lopez on Saturday, March 25, 2017, at 7 p.m. at Plaza De La Raza located at 3540 N. Mission Road, Los Angeles, CA, 90031.
The Antonio Pelayo Retrospective Exhibition will include 75 original pieces in pencil, and some Disney Animation cels (celluloid/traditional hand-drawn animation).
Accompanying the Pelayo exhibition, a benefit concert featuring legendary Colombian band La Sonora Dinamita, considered the king of the cumbia, a South and Latin American music genre and dance popular throughout Mexico and Latin America.
Antonio Pelayo is recognized as an extraordinary illustrator and hyperrealist—a genre of painting and sculpture resembling a high-resolution photograph. Pelayo's childhood is unique in that he was born in 1973 in Glendale, California but spent most of his youth living in Mexico—the instability of moving from an American suburb to a tiny village helped turn him into one of the most exciting artists of his generation.
"Since 2012, Plaza de la Raza has supported my ideas and given me full range on my artistic vision, and for that I am grateful," said Pelayo. "I am truly honored that they are giving me the opportunity to have a solo retrospective that will exhibit my work from 1996 to the present."
In Mexico, Pelayo dove into the depth of Mexican art and its own movement from the shadows of the Catholic Church into the modern world. Influenced by mentors—Diego Rivera, Frida Kahlo, and Orozco—Pelayo mastered the Spanish language to better communicate with the people living in his village. Still, there was a gap: the language barrier between poor farmers and the middle class kept him from meeting people on an intimate level. Nevertheless, he now had three languages to communicate in: English, Spanish and his drawings. Through his mastery of pencil and paper, Pelayo began in the nave of an old Mexican country church and in America, his skill developed further.
In 1994, call it serendipitous or just plain gumption; Pelayo was hired, given a coveted invitation to join Disney Studio's illustrious Ink & Paint Department, where he learned traditional celluloid animation techniques. Pelayo's body of work is pure yet has an urban and hip edge. Did joining Disney Studio's Ink & Paint Department influence his work?
"Mexico is where I had the chance to work on my skills and that's where my artistic story began," said Pelayo. "But Disney had a huge impact in my career. It's because of Disney that I got the opportunity to exhibit my work for the first time."
Additional entertainment for the evening includes: Casa De Calacas, DJ Sloe Poke, DJ Gargamel EV Dub, and the Alien Dance Band. Guests will enjoy a night of art, culture, music and dance until 1 a.m.
Tickets are available at http://www.brownpapertickets.com/event/2737746
For more information, visit http://www.plazadelaraza.org
Video Slider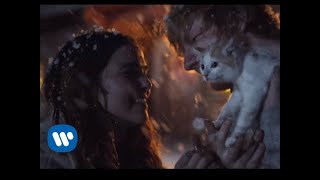 Win Tickets to See Ed Sheeran at the Rose Bowl
Ed Sheeran is back in Los Angeles, and your chance to see him perform is at the Rose Bowl in Pasadena on Saturday, Aug. 18. We are giving away complimentary tickets to the show. For a chance to enter to win, email us at info@lol-la.com with "Ed Sheeran" in the subject line and tell us why you would like to go.